Talking Telephone Numbers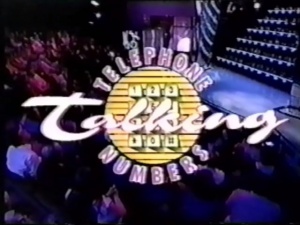 Host
Danny Baker and Emma Forbes (non-broadcast pilot)
Phillip Schofield and Emma Forbes (1994-6)
Phillip Schofield and Claudia Winkleman (1997)
Co-hosts
Cash Peters (1994)
Sniff the Dog (semi-regular appearances)
Voiceover:
Bruce Hammal (1994-5)
Enn Reitel (1996)
Caroline Feraday (1997)
Broadcast
Celador and Carlton for ITV, 28 February 1994 to 29 December 1997 (62 episodes in 4 series)
Synopsis
Weirdo interactive show. Celebs and guests performed acts and then found a way to create a random number. When five numbers were revealed, if they matched the last five digits of your telephone number you were invited to call in with the vain hope you might win something.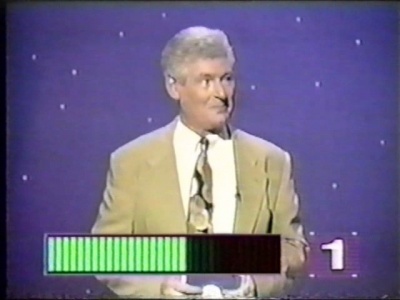 Roy Walker plays Opportunity Knocks...again
After the obligatory teenybopper act, one of the lines was randomly selected and if it was you, and you had a one in 96 chance, then you had to answer three number related questions. These were always easy, so it's surprising that many people got them wrong (although, to be fair, there were sometimes some trick questions). They'd keep selecting lines until they either (a) ran out of time (doh!) in which case the prize would roll over to next week, or (b) somebody got it right, in which case they'd win £10,000.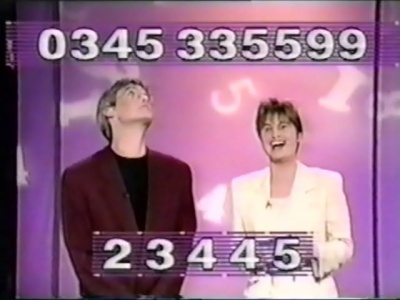 Phillip checking the phone number just in case it's not redirected to Winning Lines
They then had the option of gambling their winnings in order to win £25,000 as each Talking Telephonist had a card. Inside half of the cards was a prize larger than £10,000 (£25,000 max) and half had lesser sums (but nothing less than £1,000). Sadly, they might not as well have bothered with this bit, because nobody ever gambled (well, there was the occasional exception, but not regularly), proving that when they wanted to be, the British public could be incredibly boring.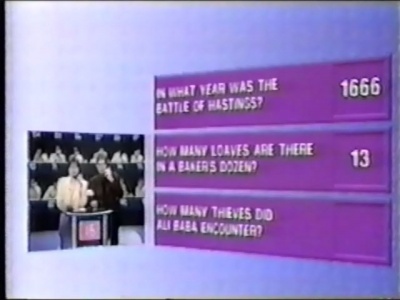 Question these for a phone call
Key moments
The moment when a pre-recorded item accidentally fast forwarded to the number generator.

VT! VT!! VT!!!
That uncomfortable moment when presenter Phillip Schofield nearly gave a man £10,000 for saying that a spider had six legs, then had to inform the unfortunate chap that in fact he hadn't won after all - he (Schofield) had just had a message from the producer to that effect. OOPS!
Inventor
Steven Knight, Mike Whitehill and David Briggs - the same team responsible for Winning Lines and Who Wants to be a Millionaire?.
Theme music
Keith Strachan

Opening Titles from the non-broadcast pilot
Trivia
The programme won a Bronze Rose of Montreux in 1997.
Charlotte Church got her first big break on this show when she came on to perform Pie Jesu.
The show's mascot, Sniff the Dog, became a semi-regular on the show - he'd appear from time to time to help generate one of the numbers.
Web links
Celador's Talking Telephone Numbers Page
Pictures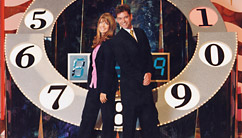 Schofield and Winkleman in front of RINGO.
See also
Feedback