The Satellite Game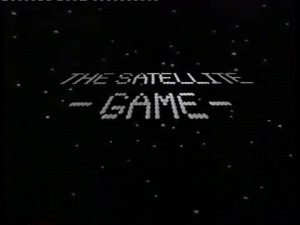 Hosts
David Learner (as Lari the Droid)
Freyja Westdal (as Coco the Computer)
Co-hosts
Alice Arnold, Tom Coulthard, Colum Gallivan, Sonya Leite (as various alien characters)
Broadcast
Broadsword for Galaxy, 5 May to 24 November 1990 (38 episodes in 1 series)
Synopsis
Three children land on the hostile Enigma satellite, hoping to penetrate to its core and stop an anti-matter bomb. The contestants remained on board their shuttle craft, and guided a Lightly Armed Robotic Investigator (LARI, voiced by Knightmare regular David Learner) around the craft. Further information was provided by the shuttle's Command Computer (Coco); this character filled a similar role to Treguard on Knightmare.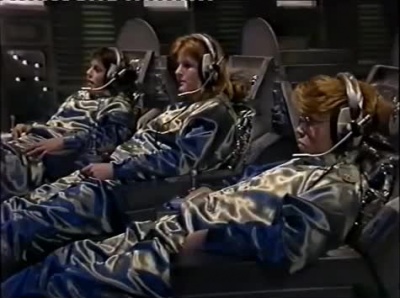 Come on team, it's not good completing your quest by sleeping on the job.
Much of the programme was taken up by detailed explanations of LARI's capabilities, and chatter between the robot and the computer. From time to time, the competitors were able to take control of LARI, steering it to avoid moving blocks, and firing its weapons to open doors.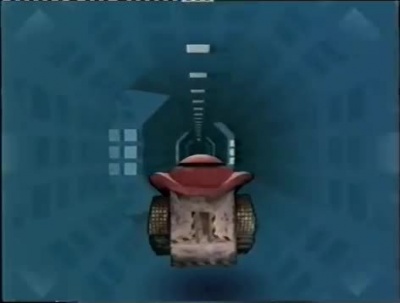 You wouldn't get graphics like this on the NES.
Computer graphics were used to show LARI's progress through the ship; these were described by creator Tim Child as "Not completely awful, but fairly dreadful!" The virtual reality used was in its infancy, which caused a 'reverse ferret' on introducing the technology into Knightmare. They used chromakey instead to much success.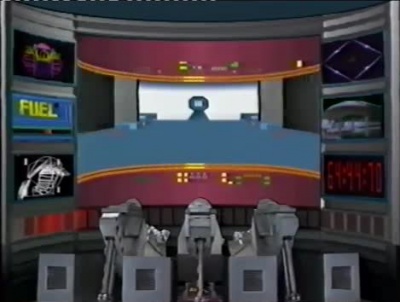 Not even Captain Kirk has a screen this big on his Enterprise.
Theme music
Geoff Griffith and Dawn Leeder were credited for "Music and Effects".
Trivia
The graphics were based on drawings by David Rowe (another Knightmare regular), and animated by the Incentive company.
The game aired as a show-within-a-show portion of the Saturday afternoon magazine programme Cool Cube (produced by Granada, if you must know).
Broadsword later created the shows Cyberzone and Virtually Impossible which did use VR.
It was broadcast on The Galaxy Channel, one of the channels operated by BSB (British Satellite Broadcasting). The show came off air immediately after BSB was "merged with" (effectively, bought out by) its rival Sky.
See also
Feedback