Top of the World
Host
Broadcast
ITV, 19 January to 6 April 1982 (13 episodes)
Synopsis
Strange quiz show done with satellite link-ups to contestants on three continents. Why? Because they could.
Here's how it worked: there were three contestants - one from the UK, one from Australia, and one from the USA; each competed from somewhere in their own country.
The first round consisted of nine 1-point questions about each of the three countries, offered in turn so that each contestant got three of those questions. The second round was like the Mastermind specialised subject round; new players got two minutes on a category of their own choosing, with questions worth two points each. Returning champions got general knowledge questions instead.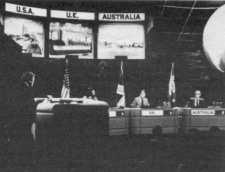 The satellite link-up screens
The final round was a buzz-in round of about four minutes, with questions worth three points each for correct answers, but three points away for wrong ones. Some "lag time" was allowed for the Australian and USA contestants to compensate for the time it takes the signal to get there and back.
Each week, the champion would return next time to defend their title. After 12 weeks, the top players from each country competed (the overseas players were flown to the UK) for the final. They returned to their specialised subjects for the second round.
Trivia
The grand prize, called "The World's Top Prize", was a silver 1924 Rolls Royce Corniche valued at £20,000. Apparently, nobody could figure out what to give away after that (The World's Second Top Prize?), so there was no second series. The prize was handed over by the director of Thames Television at the time, Brian Cowgill.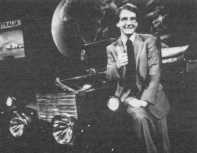 The winner with his prize
For some reason, this show so vexed author Jeff Evans that he included it in a list of "The Terrible 20" worst TV shows of all time in his (otherwise excellent) book, The Penguin TV Companion. He says it was "over-ambitious" and he has a point, but one of the 20 worst shows ever? Really?
Future Who Wants to be a Millionaire? winner Ingram Wilcox was a three-times winner on this show. Egghead Christopher Hughes was also a winner.
The programme was made with the support of the 'Blanche and Jay Morton Foundation'.
Champion
The UK's James Eccleson won the grand final. His specialist subject was American soul music.
Feedback