Eamonn Andrews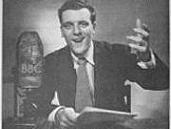 Biography
Born in Dublin on 19 December 1922, Eamonn Andrews was a radio and television presenter who spent much of his career in the UK. Initially an amateur boxer - the All-Ireland juvenile middleweight champion, no less - he went on to commentate for Radio Éireann, then moved to the BBC to present the game show spoof Ignorance is Bliss. He presented the Saturday afternoon Sports Report from 1950 to 1962. During his time with the BBC, Andrews had high-profile television roles hosting Crackerjack, What's My Line? and surprise biography show This Is Your Life.
In January 1964, the BBC decided not to renew This Is Your Life, and Andrews made a high-profile defection to the independent broadcaster ABC. He hosted a very successful late-night chat show, fronted World of Sport, and Thames's evening news magazine programme. Andrews hosted This is Your Life again when it was revived by Thames in 1969, continuing to present it until his death in 1987 - he was succeeded as host by Michael Aspel, just as had happened on Crackerjack two decades earlier.
Andrews was created a Papal Knight of St Gregory in 1964, and appointed honorary CBE in 1970. He died on 5 November 1987, and was buried in Dublin. A memorial service at Westminster Cathedral attracted more than 3000 people.
Over his career, Andrews made many appearances on panel games, both as panellist and host. He devised that most simple of formats, Double or Drop; was Chairman of RTÉ, the Irish national broadcaster, from 1960-66; and won Television Personality of the Year four times in successive years from 1956-59.
Trivia
He was born in Dublin's Synge Street, the same street in which playwright George Bernard Shaw was born.
On one edition of What's My Line?, they played a trick on the panel by making Eamonn the mystery guest. This was a fallback plan that had been devised for the original US show in case a guest had to drop out at short notice, and had to be used on 7 December 1952, when the celebrity pulled out due to the Great Smog which engulfed London that week.
Web links
Feedback