Weaver's Week 2016-06-12
Last week | Weaver's Week Index | Next week
Kevin Ashman is the best quizzer in the world. We have the proof, and a section large enough to contain it.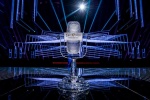 Our planner for this week reads "ITV's 500 Questions, and BBC White Paper". ITV hasn't aired the 500 Questions show, they've preferred to show some overpaid gasbags doing stuff about Europe.
So, here's five questions about the recent Eurovision Song Contest.
Who was the Top Brit? John Ballard, born in Scotland, works in Sweden, one of four co-writers of RTR's entry "You are the only one".
What was the name of Joe and Jake's song? Zoe Ball asked this very question on Popmaster. "Oh, you played it every ten minutes.. I could hum it to you." That's part of the BBC's problem: beat people over the head with a mediocre song and it might just stick in for a few weeks. They need an instant hit, something that grabs viewers by the lapels and shouts "I'm in your mind! Stuck like an earworm! Vote for me! Vote now!"
Does the BBC's best option for ESC 2017 involve getting a singer and composer from the West End? In our view, the BBC's recent songs have been very good. "Children of the universe" felt like it could have been a winner from the off, and "Still in love with you" is a joy when it pops up on shuffle. "We're in this together" hasn't (yet?) shown itself to be quite so good, but it's a better song than much of the dreck the BBC sent in the late Wogan era.
Harvey Goldsmith worked with the BBC to find this year's entrants, the six seen on "You Decide" and others sent to the fandom. Goldsmith gave a long interview to ESC Insight in April, and said that there some more challenging songs had been submitted, and hadn't been put to the public this year. His implication was that these songs were being saved for 2017.
The BBC's problem isn't the songs but the television performance. The approach seems to be: put a good song before the audience and they'll vote for it. It worked for Katrina in 1997, why change? But 1997 was a long time ago: this year's BBC entry were still in nursery school. The viewer expects a show and a spectacle, a three-minute story that works with the song.
We joked in 2013 that Bonnie Tyler had arrived straight from Top of the Pops 1978. Her song felt ancient, and the staging was familiar from the TOTP reruns. The presentation remains outdated, maybe antique.
We can just about see what the BBC wanted in this year's staging. The wall of selfies tried to bring out the "you're not alone" line, that Jake and Joe were surrounded by friends. But that wall looked terrible on screen, it distracted the eye when we're meant to be listening to the payoff line.
Does the BBC need a composer from musical theatre? It would be a safe option, a useful arsenal if the mystery songs kept by Harvey Goldsmith aren't up to scratch. A singer from musical theatre is also safe, should hit the juries but might not connect with the voting audience.
Theatre can help with the staging. What works in a theatre? How do Mackintosh and Lloyd Webber ram home their message? Spotlights, movement, simple. Yes, use the video wall, but keep it easy on the eye. Jamala's tree worked because it was a simple message that worked with the song. The wall of selfies worked against Joe and Jake.
GPB make statement entries. Agreed. Their last two at Senior Eurovision were psychadelic noodlings and a warrior princess. Their last two at Junior Eurovision were a catchy number and one so bright it made the sun shine on the radio. Georgia is a sign of quality, and a name to watch.
How did the EBU fabricate the San Marino televote? The EBU won't say how they made up San Marino's televote. They claim that this "protects the integrity of the televoting".
We can see their point. Suppose it was known that San Marino's fake "vote" was made up of 35% Blastvia, 18% Pottsry, 11% Lathnia, and 36% from the Euro-average. And suppose scammers from Dodgia want to buy a televote. They would want to target the micronation of Pottsry. Not only would they buy 12 points from Pottsry, but they'd also get bonus points from San Marino's fake result. 16 points for the price of 12! Bargain!
But we prefer transparency. The EBU leaves shadows, patches of darkness where conspiracy theories lie.
So, we sat down with the data, and tried some clustering. And we looked at the reciprocated votes, and correlated votes. And saw what we saw.
It looks like the EBU has put San Marino somewhere in the Baltic and Central European area. The strongest links in semi and final are to Estonia, Hungary, Moldova, and Malta. From the semi-final, we think the fake televote has relations to Czech Republic and Montenegro; in the final, strong links to Albania, Latvia, and Lithuania (all in the other semi), and a weaker tie to Poland and Georgia. The EBU appears not to have linked San Marino to geographic neighbours Italy, Austria or Switzerland, and there's no apparent relationship with other microstates Cyprus and Slovenia.
Now, this is a very limited exercise. All we've used are the ranks, 1st and 2nd and so on. And looking at the answers by eye, we've also answered the question "which televotes gave similar points to both Armenia and Azerbaijan". Further work can be done – can we assume that votes are distributed by a power law? What are the weightings?
We don't know how San Marino's vote was fabricated. It's likely to have been from other small states and from the European average. We strongly encourage the EBU to show their workings, or we will assume they've invented the results at random.
Notes on the future of the BBC
This column has been working on the government's White Paper about the BBC. Our response is long and detailed and technical. Frankly, it bores the pants off us.
Civil servants are paid to read our response, including footnote 54. You're not, and you deserve something more interesting. The short version of our submission:
1) Public broadcasting is broadcasting for the public good. Too much of this discussion has been about the commercial sector protecting its own profit margin. The proposals lose sight of the core point of public broadcasting.
2) "Distinctiveness" is not the antithesis of "market impact". The Great British Bake Off is distinctive, Radio 2 is distinctive. Neither stop commercial companies from doing better. Both show up low-quality imitators.
3) OFCOM is the worst sort of accountant. The organisation is comfortable with numbers, but does not wish to measure quality, so assumes quality is unimportant. The white paper wants to make the rules all quantative and less qualitative – this fits too well with OFCOM's existing and flawed methods. Public service broadcasting is so more than "measurable outputs". This column rejects the proposed regulatory regime, and insists that the public – not the government, not competitors – set the policy.
4) Actually, this column does not trust OFCOM to regulate anything. OFCOM ignored its own rules, allowing Kerrang Radio to "format creep" into Absolute. OFCOM has wilfully ignored its own evidence, only prejudice led it to not class the Scottish Green Party as "major" for this year's election. OFCOM appears to choose which rules it enforces, based on how easy it is to enforce the rule. OFCOM does not complete its existing tasks, and need not be given additional spheres for failure.
5) To ensure that news is selected on its actual journalistic merit, remove the charter requirement to broadcast a summary of parliament.
The World Quizzing Championship
The world quizzing championship took place last weekend. The winners are a who's who of game show greatness.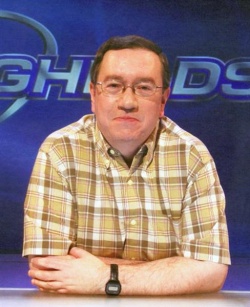 1. Kevin Ashman (Egghead) — 171
2. Olav Bjortomt (sets questions for The Times) — 167
3. Pat Gibson (Millionaire and Egghead) — 165
4. Mark Grant (Brain of Britain and Crossworder) — 163
5. Ronny Swiggers (Belgium) — 161
6. Tom Trogh (Belgium) — 161
7. Ian Bayley (Brain of Britain, Mastermind, and Crossworder) — 160
8. Didier Bruyere (Oenophile – in his second language, as he represents France) — 160
9. Tero Kalliolevo (Finland) — 159
10. David Stainer (Quarter-millionaire and Crossworder) — 156
Also in the UK Top Ten:
12. Hugh Bennett (represented Sheffield on University Challenge 2011) — 153
15. Paul Sinha (Chaser) — 148
24. Scott Dawson (Oenophile) — 143
28. Rob Hannah (History Boy) — 142
We believe the top woman was Dorjana Širola, unbeaten on University Challenge Student and Professionals. Anne Hegerty (Chaser) appears to be second in this category. WQC does not publish a list of leading women, and we've not been able to determine the gender of all participants.
This Week and Next
Good news from BBC The Voice UK as Emma Willis will return as host.
Terrible news from NBC The Voice of New Jersey, as Christina Grimmie was shot and killed at a public performance. What a senseless waste of a promising talent. How good? The audition piece was "Wrecking ball".
BARB ratings in the week to 29 May.
Britain's Got Talent reached its final. 7.7m viewers on ITV-SD, a further 2.1m on ITV-HD.
Some non-game shows: The Eastenders had 6,95m viewers, and Top Gear consolidated to 6.4m. Presenter and producer Cliff Evans set a target of 5 million.
Have I Got News for You reached 4.45m, The Great British Sewing Bee 3.25m, and The Chase 2.35m.
The Ant and Dec Story went out on Channel 5, with 1.75m ready to r(h)umble. 1.29m for A League of Their Own Roadtrip (The Satellite Channel) and 950,000 for Britain's Got More Talent (ITV2).
America's Next Top Model roared back on UK Living with 365,000 on Sunday. Australia's Next Top Model had an anaemic 105,000 on Lifetime's Thursday schedule – the show's lost almost half its audience in a month.
They kept that quiet! Taking The Next Step (CBBC, Monday) seeks a UK child to guest on the top-rated dance show The Next Step. With John Partridge and Lindsey Russell involved, it's sure to be a hit. The way is clear for American imports: Family Feud (Challenge, weeknights) and America's Got Talent (TruTV, Tue). We do have the recorded final of UK's Best Part-Time Band (BBC2, Saturday).
Photo credits: EBU / SVT, BBC, Love Productions, 12 Yard.
To have Weaver's Week emailed to you on publication day, receive our exclusive TV roundup of the game shows in the week ahead, and chat to other ukgameshows.com readers, sign up to our Yahoo! Group.