UK's Best Part-Time Band
Host
Co-hosts
"Legends": Midge Ure, Peter Hook, Jazzie B
Broadcast
Wall to Wall for BBC Music, shown on BBC Four/Two, 3 to 18 June 2016 (4 episodes in 1 series)
Synopsis
Rhod Gilbert tours the country looking for the best amateur band. He's helped by Midge Ure (from Ultravox), Peter Hook (New Order) and Jazzie B (Soul II Soul).
The best bands from the South, the North, and The Nations converge for a final, determined by an audience vote.
There were three heats, which began with Rhod and the week's Legend getting in a van and touring the country. They dropped in on bands in rehearsal, in their homes, in pubs and clubs.
We got to see the working life of some of the acts - the window cleaner, the classroom worker, the builder. And then it's on to the next location.
Had the programme stopped there, it would have been quaintly charming. Rhod and the Legends were entertaining while on tour: plenty of banter on the road, and lots of warm smiles when they see the bands. It's a thrill to meet a music legend like Peter Hook.
But they forced the show into a competition box, and it suffered. After their tour, the Legend invites five of the acts to perform at a special gig. An evening's entertainment condensed into fifteen minutes? Simply doesn't work: we viewers were only permitted a minute of the bands' set, barely enough to appreciate their quality.
And they forced the show to a final. The best two at each heat final, in the Legend's sole opinion, progress to a series final in Manchester.
While the heats had gone out on BBC4, this final went out on BBC2. So the producers had to introduce each band again, tell their story again, include some rehearsal footage, and show the entire (two-song) set. Something had to give, and the music performances were truncated.
The result was an unsatisfactory series. It wasn't a good concert on television, and there wasn't time to explore the band's personal stories in any depth. Had it not been a competition, had it just been "Rhod and Jazzie drop in on bands", the show would have been much more focussed.
Champions
Bombskare, a ska band from Edinburgh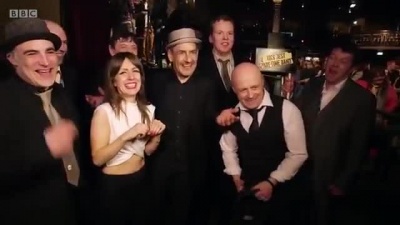 Trivia
Made by BBC Music as part of a "Get Playing" campaign, which encouraged viewers to perform music.
Web links
See also
All Together Now - The Great Orchestra Challenge, the classical side of "Get Playing".
Feedback