Weaver's Week 2016-06-26
Last week | Weaver's Week Index | Next week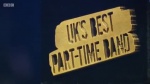 In a week when the UK decided between nostalgia and progress, one part of the BBC cast its vote.
Wall to Wall for BBC Music, 3-18 June
Back when it was a united kingdom, Rhod Gilbert went around the country, in search of great amateur musicians. He's assisted by three "Music Legends" – Midge Ure from Ultravox, Peter Hook from New Order, and Jazzie B from Soul II Soul. The best go to an area final, and the most impressive on stage will reach a final in Manchester.
"There are no million-pound contracts, the prize is sheet all" says Rhod at the start of every episode. They don't have a sheet watershed on BBC4. Nor do they have permission to show the logo on Midge Ure's jacket: every time we see his left arm, there's a digital blur.
There were three heats, which all followed the same basic pattern. Rhod drives a big white van around the country. He's joined by the music legend, and they do whatever people do while on a long road trip. I-spy, count blue cars, that kind of thing.
From time to time, they drop in on bands. And it's always bands, the clue is in the title. "Part-time band", not "Part-time singer". By a complete coincidence, Rhod and his mate always drop in on a rehearsal session, or a gig in a local pub. They'll see the band, give some constructive feedback, and make some people's years. C'mon, how often does Midge Ure come into your local?
We've seen enough reality shows to know the drill. The bands we see profiled here are likely to turn up again later. Those who just appear in a brief clip are not going any further.
But it's the things between the lines that we found most interesting. Rhod always spoke of the band's day jobs, because the performers are not making a living wage from their work. Did we see a lot of manual workers? We think we did, but maybe that represents the people who play in amateur bands.
This column knows from personal experience that being in a band is expensive. If you're lucky, you'll make enough to cover your transport to a gig. If you're really lucky, you'll make beer money by selling merchandise to the entertained and the tipsy.
Someone once compared bands to football teams. At any time, there's perhaps 120 with a reputation good enough to make a living out of music. Below them, a pyramid of semi-professional groups who get a reliable income through gigs and records. Everyone else is playing for the love of the music. And, since the dawn of television, it's always been this way.
Myth This
UK's Best Part-Time Band tried to present this norm as being wrong. Reading between the lines, we think Rhod and his crew harked back to a "lost" age. A time when every lad in Liverpool was in at least two bands. An era when the youth of Cardiff spent evenings strumming the guitar down the local milk bar.
We fear that they're giving in to easy nostalgia, and that the show believed two myths. Not every band on a record label is making big money. Some get a retainer, some get expenses, but these are an advance on future royalties. They're a bet by the sponsoring capitalist on success in the future.
And no, not every band craves success. Some people would rather be happy than massively successful.
There are other ways to look at the situation. And we have a lot of sympathy for the romantic ideal that bands should be properly compensated for their creative effort. The way we saw it on screen, we got the impression that Rhod and his crew regretted the way things are. The presenters used a lot of "should" and "ought", expressing both a wish to change and casting themselves as morally superior to their nebulous opposition.
Anyway, back to the show. It's undeniable that there were a lot of men on screen. In the first show, we saw one all-woman band, and one "girl in a band". Rhod's questioning appeared a little insensitive, he appeared to ask "why are you in this band", with the undertone of "shouldn't you have something better to do?" He could ask that of everyone. This was the first band, and it set the show off to a poor start. It got better, but remained testosterone-filled to the end.
UK's Best Part-Time Band may have limited itself further. The bands they chose tended to be guitar-and-drum bands, the traditional setup. Now, there's a lot of variety – from metal through general rock to country and folk. But it's a male tradition – there's no classical work, no vocal-led work, little in the pop-dance-jazz arena. The show appears to have aimed at the slice of music often seen as male.
To emphasise the difference between "in a band" and "normal life", they used distinct typefaces. A timid font for regular life, and larger more aggressive type for the band. Except they weren't consistent: captions such as "Sam, Singer in A Band" were in the timid everyday font.
So, the Music Legend picks his five best bands. They arrive at the semi-final venue, and play to an audience of perhaps 150 people. It's a big gig: for many of the acts, the largest of their careers. On screen, we only see them a clip of them playing one song – it could be an original work, it could be a cover of someone else's tune. We'll assume that the bands played both original and cover.
From this performance, and from their visit, and doubtless from the application tapes, the Music Legend makes his choice. Two acts go through to the national final in Manchester.
Final bore
Are we going to see plenty of the finals performance? Of course not. This is a BBC Music programme, the last thing they want to do is show music. They'd rather show rehearsals, and the band meeting up with their mentor, and reaction from the legends afterwards.
The slack pace stems from a bizarre scheduling decision. While the semis went out on BBC4, the final was stuck in an obscure slot on BBC2. They introduced the bands all over again, in case there were more viewers on Two.
Bands performed two songs: one original composition, and one cover of someone else's work. The BBC Music house style meant all the filming looked like it's still 1982. Sequential shots of everyone in the band, close-ups of the singer. It's a band on a stage, nothing more advanced, and nothing more interesting.
What story was UK's Best Part-Time Band trying to tell? BBC Music commissioned the show in its "Get Playing" strand, to encourage people to perform in a band. But the only people watching this are the people who see BBC4's nostalgia documentaries, or the people who have turned over after a dull football match. The audience is middle-aged men, and they're either in a band already, or not interested.
It would be easy to dismiss this as an exercise in nostalgia, middle-aged men reliving their childhood dreams. The programme did nothing to dispel that image.
The final winners were Bombskare, a ska band from Edinburgh. There was so much talking that we don't understand why. We didn't see enough of their work to see if they were better than the other acts in the final. We did see enough to see that they're good, and better than this programme.
Series 74 finals week
We feared the quarter-finals would be one-sided. Top seed Paul Erdunast beat Tony Lock by 114-34. It was competitive for the first four rounds, but Paul won rounds five through thirteen inclusive. He was on great form, perfect on the letters through this spell.
Robin McKay was given a good workout by Sean Cooke, winning by 107-72. The numbers proves Sean's undoing, he missed two difficult selections, and lost the conundrum. Robin won one letters round, the very first – that psychological advantage was always in his favour.
Ann Dibben and Tim Down pulled out a corker of a game. Both players were perfect through six rounds, and Ann found the winning word "Llanero" – a cowhand in Argentina, apparently. That gap stayed until the final letters round, when Ann risked "raidable", but it's not in the dictionary.
Tim turned the game in his favour with the final numbers pick. We'd had three very easy figures rounds, so were due a stinker, and Tim was the only player to get it spot on. Ann had the final word, unscrambling the conundrum "Pictogram" with barely a second left. Ann took the game, 107-106.
"I'm just going to make words," promised Conrad Teixeira before his match with Dave Costello. After offering "gelcoats" and "mudirate" and "gravies", Conrad won the first four letters rounds by 28-0. Dave pulled one letters round back towards the end, and asked for a difficult numbers game. He got it, and from nowhere we'd got a crucial conundrum. Neither player — hang on, Dave buzzes on 29 seconds.
"No idea, just wanted to go out with a bang." Conrad wins, 85-75.
Semi-finals
The first semi-final pitched Paul Erdunast against Conrad Teixeira. At this level, we almost expect both players to be perfect through three rounds, and it's not a surprise to find they're perfect through five rounds. It takes a very difficult numbers game to split the players, and Paul comes out in the lead.
"Rosulate", wasn't that one of the minor characters in Shakespeare? Apparently not, it's a part of a plant. To the players, eight points. Paul's lead remains at seven going into the break, and (whisper it softly) he's still on for a perfect game. That ends when he missed "Athanor" in round ten, and the lead remains at seven.
"Katipo", wasn't that a feline Teletubby? Apparently not, it's a poisonous spider. To the players, six points. The lead remains seven into the final numbers, then Paul goes all the way up to 5450 to get the numbers. He adds the conundrum, for a winning score of 118-91. It didn't reflect a close match, but Paul turned in the best performance of his career – 14 maximum rounds, and just one letter adrift in the last round.
Robin McKay and Ann Dibben met in the second semi. It almost goes without saying that both players were perfect in the opening rounds, until Ann called "Patinise" for a chunky lead. Eight points allows an error later. Neither player offers "Rhizoidal", the sort of word we might expect Paul to have got.
One-small numbers rounds are easy pickings at this level, and the gap remains at eight into the final part. "Majorised", isn't that what happened to the former prime minister? It's eighteen points, but eighteen for both players. The gap does come down in the final letters game, Ann's word doesn't take that spelling. The lead remains, that's the value of eight points.
A three-large numbers selection is solved by both. Which brings us to another crucial conundrum. "Me my shape". Nasty. Nastier for Robin, because he's defeated. Ann Dibben wins, 113-112. Both players maxed 12 rounds, the only difference was the one Ann won was better.
The final
So to finals day. Paul Erdunast is "nervous", Ann Dibben is saying "hello" to her daughter. Phil Hammond is in good shape. Paul says "Urokinase", an enzyme in the kidneys. 18-0. As they say on BBC4, "sheet".
Follow that? "Situated" and an easy numbers round, so 36-18 at the first break. And then a surprise: Ann has the winner "Phobias", and pulls the gap to 11 points. As they said in the last Week, Game on!
"Ethanol" for everyone, another simple numbers game, and 53-42 at Dr. Hammond's Campaign. It involves t-shirts with slogans on them. "Aneroids" and "Outroars"; when the players have drawn the letters rounds, they've offered the very same words. But then a change: Paul completes a difficult one-large numbers game, and the lead is up: 78-57.
Then we're back to similarity: "Wiretap". Ann decides not to offer "Agniste", but Paul says it's not a word; "Agonistes" would have been fine, says the presumptive champion. Susie can get on with Origin of Words. "Slurped" and "Usurped". Paul's win is confirmed when both players offer seven in the final round: "Riviera" and "Overran".
Ten each on a simple numbers, and Ann gets the conundrum – "Holy Cigar" turns into "Oligarchy". She's been consistent in finals week, 11-max, 12-max, and an 11-max today. Paul's done a 10-max, 11-max, and that 14-max on Wednesday. His winning score today, 116-105.
This Week and Next
Remember how The Crystal Maze got its funding through the crowd? That turned out well: we played it last weekend, and would do it again in a heartbeat. A full review follows later in the summer.
This year's crowdfunding? Get Your Own Back Live! "Was it your childhood dream to be gunged by Dave Benson Phillips? Now's your chance!"
The gungemeister will be at the Edinburgh Festival in August, and needs a few quid to put on the show. This is literally a pay-to-play event: as well as the t-shirts and posters, you and a mate can appear live on stage with the stars of other Edinburgh shows.
BARB ratings in the week to 12 June.
#RUSENG in Euro 96 was the most-seen programme – a total of 9.75m viewers at home across ITV-SD and ITV-HD, plus goodness knows how many in pubs.
Top game show was The Great British Sewing Bee (3.25m), only a little behind Top Gear (3.45m). BBC2 often sneaks a top game award when the big channels are showing sport. The Chase had 2.55m on ITV-SD-HD.
Big Brother launched on Tuesday, but the week's top audience came on Wednesday, 1.77m viewers.
New Mock the Week was seen by 1.75m. Love Island is attracting 1.32m on ITV2.
Gory Games on CBBC pulled in 190,000 gunge-lovers.
Fresh episodes of I'm Sorry I Haven't a Clue (Radio 4, Monday). And if you've been waiting for The Getaway Car, it's scheduled for BBC1 next Saturday. Will it arrive? Depends on whether the BBC's showing football, or if Andy Murray over-runs again.
Photo credits: Wall to Wall, Yorkshire Television.
To have Weaver's Week emailed to you on publication day, receive our exclusive TV roundup of the game shows in the week ahead, and chat to other ukgameshows.com readers, sign up to our Yahoo! Group.