1000 Heartbeats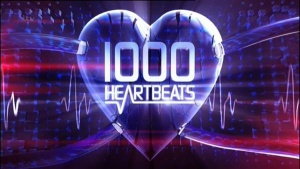 Host
Co-host
Voiceover: Dilly Barlow
Broadcast
Hungry Bear Media for ITV, 23 February 2015 to 15 January 2016 (55 episodes in 2 series + 1 special)
Synopsis
Contestants answer questions while wearing an electronic heart-rate counter device. There are this-or-that general knowledge questions, anagrams, visual and mathematical puzzles, tests of memory and sequencing.
Rather than a traditional clock, players are timed by their own heart. 1000 beats will run down as they play the game - by errors and passes, or simply by being alive.
Adding to the tension, 1000 Heartbeats features a string quartet. They play live in the studio, at a tempo dictated by the player's heartbeat. A more tense player causes the tempo to rise, and the music speeds up, making the player more tense.
Vernon Kay is the host, his usual warmth and friendly banter keeps the programme ticking along. Questions are asked by the voice of Dilly Barlow, her enunciation is clear and precise and perhaps a little slow. This has bearing on the game, particularly in rounds where the player must hear a lot of information - and spend many beats - before being allowed to play.
The show offers increasing amounts of money for completing the rounds - £250 for the first, then £500, £1000, £2500, £5000, £10,000 and a top prize of £25,000. This money isn't won until the player completes the Cashout round, giving five correct true-false answers in a row.
An outstanding idea, elegant and subtle and with depth.
Theme music
Paul Farrer wrote all the music. It's played live in the studio by a string quartet (Sarah Chapman, Catriona Parker, Hayley Pomfrett, Llinos Richards) and conducted by Farrer to match the player's heartbeat.
Inventor
Paul Farrer. There's a "developed by" credit - Simon Adsett, Ed Daggett, Juliet Denison, Ed Egan, Emma Hammill.
Trivia
The first game show in forever to carry a credit for "Heartrate Technology". (Hidalgo supply the equipment, if you want to play at home.)
The first series aired in the 4pm slot, hammocked between Tipping Point at 3pm and The Chase at 5pm. Tipping Point wouldn't budge from the 4pm slot, so the second series went out at 3pm instead.
Voted the Best New Show in this site's Poll of 2015.
In a spectacularly poor piece of planning, the number of heartbeats remaining clashed with the sign linguist during the twilight repeats, so deaf people often had no idea how long the contestant had left.
Web links
Paul Farrer interview at Buzzerblog
Game Show Theory explores when to cashout
And if you want the ultimate experience when playing at home, Paul Farrer has uploaded his music themes. Just speed up or slow down the video to match the player.
See also
Videos

The very first episode.
Feedback