Airmageddon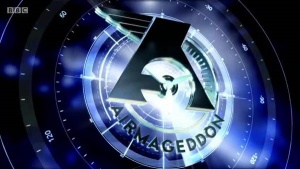 Hosts
Will Best and Rachel Stringer
Co-host
Commentator: Colin Bryce
Broadcast
Conceive Media in association with DHX Media for CBBC, 20 February to 18 December 2016 (22 episodes in 2 series + 4 specials)
Synopsis
A trial of drone control.
Four teams enter the Airena (air-eena, air arena...) for some drone-based combat. The teams are one pilot (a CBBC viewer) and a wingperson (a friend or relative of any age).
For the heats, the rounds are:
Airsault Course, flying above or around obstacles
A skills challenge - The Drop (pick up and drop weights on a target), Barrage Balloons (burst balloons), Splatoon (fire paintballs at a target).
Dogfight, shooting lasers at the opposition.
One team left the show after each event, the winner returned for the semi-finals.
Viewers found the pace uneven and a little slow. We also had problems picking out the competitors' drones from the other flying cameras and "house drones".
For the target audience, this was the coolest thing since the invention of ice cream.
Inventor
Steve Carsey. He also devised Robot Wars, and the format (tests of control and skills and combat) is similar to early years of Robot Wars.
Title music
Dobs Vye, credited for "Music"
Trivia
Filmed in an aircraft hangar in Bedfordshire.
A joint commission with Canada's Family Channel.
The closing titles tell us "Airmageddon, Airena, and all related titles and logos are trademarks of DHX Worldwide Limited." So don't try to run a knock-off event in your local warehouse, kids.
Web links
See also
Feedback