Aldi's Next Big Thing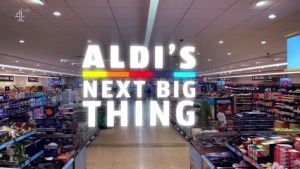 Host
Anita Rani and Chris Bavin
Co-hosts
Julie Ashfield
Broadcast
South Shore for Channel 4, 20 October 2022 to present
Synopsis
Local British food and drink suppliers compete to win a "life-changing" deal. Each week's winner gets their product on sale in Aldi's stores nationwide.
The show divides into two halves, starting with the "impress the boss" round. Julie Ashfield is the "managing director of buying", and responsible for getting the best products into her shop at the best price. Contestants have gathered at Aldi's headquarters near Nuneaton. In turn, the six contestants bring forward their food or drink for her (and hosts Anita Rani and Chris Bavin) to sample.
Julie also asks some business questions of the producer: how much does this cost at the moment, what can we buy in bulk, have you considered frozen rather than fresh? Aldi is prepared to sacrifice a little quality if it brings a big reduction in price.
If there's a star of this show, it's Julie Ashfield. She is able to be all of Dragons' Den rolled into one person: unfailingly courteous, able to make her thoughts very clear, and asks the pertinent questions with little preamble. And, unlike other business cosplay shows, Julie explains her reasoning to the satisfaction of participant and viewer.
Some foods will not satisfy Julie, and leave the contest at once. She'll then consider what's left, and pick two to progress. The food owners have a month to confirm how they'll supply Aldi with lots of their dish.
The second half of the show has visits to the production facilities. Chris and Anita take one product each, and drop in to see how things are going. Have they managed to mass-produce the pastry, or work out a big freezer unit? Where is the risk, what's the reward?
After all this, the contestants return to Aldi Towers, discuss things with Julie, and she picks a winner. As all of this happened some months ago, the winning dish is on sale at Aldi when the episode airs.
Each episode is a complete contest in itself, the supermarket finds a winner each week.
Although the narration describes this as a "life-changing" contract, the show is remarkably low stakes. There's very little emotion, nothing to get the blood pumping. It's all "Sorry, I don't like your fried kippers." "OK, thanks for your time." The second half can be a bit technical. Brief glimpses of insight into Aldi's business model are snatched away before we realise what we're seeing.
Aldi's Next Big Thing carries a credit "With thanks to Aldi". We came away thinking that this might be an extended advert for the company, and an insight into its business culture.
Trivia
Aldi had previously run the competition offscreen for several years under the name Grow With Aldi, also the working title for this show.
Web links
See also
Feedback