All Star Happy Hour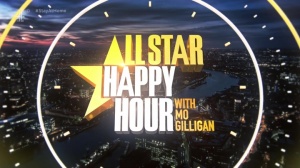 Host
Broadcast
Expectation Entertainment / M Mog Productions for Channel 4, 4 to 25 May 2020 (4 episodes in 1 series)
(but see Trivia below)
Synopsis
Cacophonous quarantine games with The Big Narstie Show co-host Mo Gilligan.
Most of the games involved members of the public (appearing via video link) answering trivia questions about Mo's invited celebrity guests (also appearing via video link). Winner of each head-to-head won a small prize, and the winners played out for a bigger prize later in the show. There were also pre-recorded vignettes and some chat with the star guests.
The opening episodes were shown live, and suffered for it - huge pauses while the video chat conveyed the messages from person to person, and celebrity guests who hadn't been properly briefed on the rules. It was quite rough viewing.
The final episode showed the benefits of pre-recording the show: the contests had been done earlier, and could be edited to feel more fluent. Suddenly we move from amateur hour to a professional programme - albeit one made under unusual circumstances. The final episode was also briefer: the "happiest hour of the week" lasted just 35 minutes plus commercials.
Key moments
Serial game show contestant Carolynne Selway appearing surprised at being picked to appear on the programme. You must have some confidence in getting on by now…
Catchphrases
"Explosion for no reason" - which followed Gilligan pressing a button on his control panel to sound one. This could never have aired in 2002.
Inventor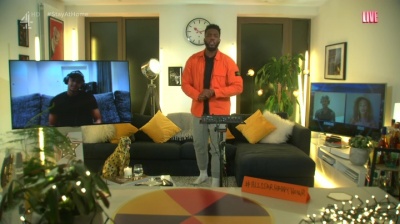 Mo in his flat, with enough screens to take over the world.
Gilligan himself. The series was based on a series of Instagram games Gilligan had played earlier during the Covid-19 pandemic.
Theme music
For a show seeking to establish Mo Gilligan as a standalone star outside of The Big Narstie Show, it must have rankled that the theme tune (for the first episode anyway) was Craig David's When the Bassline Drops, which featured Big Narstie.
The show also credits Zoom for "Title music".
Trivia
The first two episodes encountered serious technical problems. The first episode also had its problems; the episode had also been due to feature Maya Jama, but she had not connected into the programme's network, nor was able to be contacted, leaving Gilligan spending much of the show pleading viewers to contact her. More seriously, the second episode didn't air at all on Channel 4, as a result of technical problems caused by the outside broadcast link into the TV network and had to be replaced by an emergency repeat of 8 Out of 10 Cats Does Countdown. The show did eventually air half an hour later on Instagram Live. As a result, it was decided that the last two episodes would be prerecorded - we wish The Bank Job had done the same.
The show was promoted as Mo Gilligan's All Star Happy Hour, but shown on screen as All Star Happy Hour with Mo Gilligan.
Web links
See also
Feedback