Ally McCoist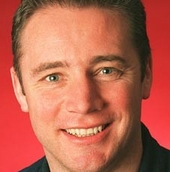 Biography
Footballer who, apart from two years at Sunderland, spent most of his career in his native Scotland - mainly as a striker for Rangers where he still holds the record for most goals scored (355).
He was a team captain on A Question of Sport from 1996 to 2007, and often appears as a football pundit for ITV.
Trivia
Once had an affair with Patsy Kensit.
Until 2006, his commentary was heard on many of the FIFA series of computer games.
Shares his date of birth (24 September 1962) with Jack Dee.
Web links
Feedback