Ann Meo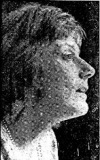 Biography
In 1958, the producers of Double Your Money sought to distance themselves from the game show rigging scandals of that year by asking the Encyclopedia Britannica if they could provide independent question setting and adjudication. Former journalist, translator and BBC archivist Ann Meo was hired to lead the Encyclopedia's team and so began a long career in the quiz biz. In 1987, after four years of setting questions for Blockbusters, she departed for rural France, where she ran a small farm.
In an article she wrote in the Blockbusters annual, Meo revealed that, although that show was more of a challenge for her question-setting skills than many others (given the contestants' ages), it was also frequently far more entertaining. She often made a point of wording questions in a more interesting way and of throwing in a number of questions with a twist, ie, "What 'M' was the mouse created by Disney as a girlfriend for Mickey?" and "What 'D' is a camel that isn't alive?" These and many similarly-styled questions proved the downfall of contestants who buzzed in too early. She stated that the letters that were especially difficult to set questions for were J, K and Q, because of the limited number of words in the English language beginning with those letters (and inevitably, much to her annoyance, contestants would often fail to answer such questions correctly, creating more work for her). She also revealed that an especially high number of words began with P and S, so they were clearly the easiest letters for her to use.
Web links
Ann Meo interview at The British Entertainment History Project - A lengthy 1996 interview covering Meo's career in television.
Feedback