Anything You Can Cook...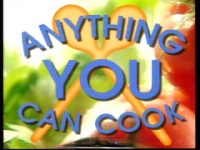 Host
Brian Turner
Co-hosts
Merrilees Parker
Broadcast
BBC One, 4 May to 28 June 1999 (27 episodes)
Synopsis
Flippin' 'eck, would you believe it's yet another cooking game show?
Here celebrity chef Brian Turner, famed for being on telly just as much as Ainsley Harriott but not quite so annoying, challenges an ordinary MOTP to cook a dish using ingredients of their choice. The contestant gets to pick three judges from the audience who spend the show backstage.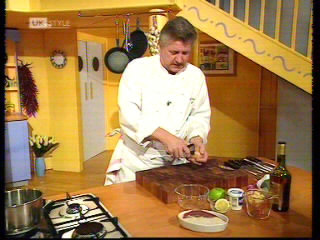 A man peeling potatoes. Excitement is unbounded.
Then comes the rub - Turner has to commit to a recipe using the same ingredients but without prior knowledge of what the contestant has already planned for the grub.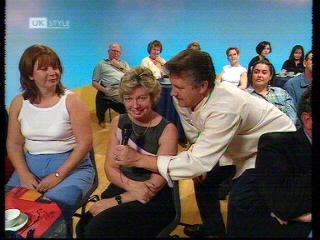 What's the polite way of saying the food's disgusting?
Both Turner and contestant then cook the dishes they've committed to using the same things. Once they're finished the impartial judges come back in and decide who is the winner based on presentation and taste marking out of 5 and 10 respectively for both dishes. The marks are added up and then it is revealed to the judges whose dish was which. If the player got the highest marks then they win something really nice, if not then they win some champers. Simple as that.
Trivia
Andrew Rait writes...
While not wanting to decry your explanation of the format of the show, or indeed let the magic out I think it would only be fair to clarify the way that programs of this ilk work in wonderful Telly land.
Having been asked if I'd like to appear as a contestant (I worked as a freelance cameraman at the time & knew the very lovely Merrilees, alas only socially) I was then given a very strict brief as to what I could or couldn't cook on the show along with a set time frame as to when I should submit recipes & ingredients prior to filming. These were then examined carefully by the shows 'consultant chefs' & adjusted accordingly as to their wishes so that they could ensure fantastic camera angles on assorted brightly coloured ingredients & close up shots of shallots being chopped at high speed despite the obvious health & safety concerns to the unprofessionally trained MOTP.
Your suggestion that the supremo Brian knew not of the ingredients or the dish being prepared is of course complete cojones as his team of flunkies had ensured that whatever meat & 2 veg concoction the guest was about to produce would look positively unappetising next to his gastronomic masterpiece.
On a side note Turner himself was a man of absolutely no charm to the point of unpleasantness (although he would probably claim that it 'were 'cos I was born a Yorkshireman') having greeted me backstage the moment before we walked out to rapturous applause from the live audience with the memorable & sportsmanlike comment "I'll tell you now - you ain't fookin' winning" a prediction that I swiftly knew to be guaranteed.
I never did get to see the episode more than once after, my girlfriend at the time videoed over the recording with, of all things, an episode of Sex in the City. She didn't last long afterwards.
Feedback