Bad Bridesmaid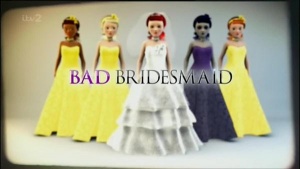 Host
Voiceover: Jane Horrocks
Broadcast
Fresh One Productions and GroupM Entertainment for ITV2, 11 September to 16 October 2014 (6 episodes in 1 series)
Synopsis
An undercover comedy actress joins a hen weekend. The actress's job is to wreak havoc, make sparks fly, and create good television. The bride's task is to convince the rest of the hen party that this woman they've never met is a long-standing friend of the family. Success is rewarded with a dream honeymoon.
ITV's press unit said, "a funny and emotional comedy-reality hybrid that puts patience, perceptions and friendships to the ultimate test with hilarious and heart-warming consequences."
We agree with the thrust of the blurb. Bad Bridesmaid invests time and effort in their creations. Each show shares a basic formula (introduce an irritating character, do some funny things, use the character's irritation to wind up the rest of the hens).
Each week's fake bridesmaid has great latitude to develop the show in her own way, arranging bespoke stunts designed to bring out the best in the hens. The fake bridesmaid has to be an outstanding improvisational actor, able to react in character to anything that happens.
The humour comes from bizarre situations, such as a LARP session or drawing a nude model. We found that more of a wry chuckle than laugh-out-loud hilarious. In the wrong hands, this could leave a bad taste in the mouth. Unlike Beadle's About, it's all done with good humour and the result is an emotional uplift.
As it's not easy to lose the prize, some purists reckon this might not be a proper game show. It's got people, it's got a prize (honeymoon for the bride, a spa weekend for the real hens, enhanced friendships throughout), it's good enough for us.
So is the show: a light entertainment starring real people in surreal situations.
Theme music
Darren Stone
Trivia
One of the Bad Bridesmaids was a pre-fame London Hughes.
Web links
See also
Feedback