Ben 10 Ultimate Champion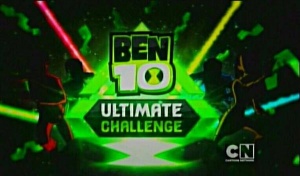 Host
Broadcast
Twenty Twenty for Cartoon Network, 15 October to 18 December 2011 (11 episodes in 1 series)
Synopsis
A challenge for fans of the cartoon Ben 10.
The contenders - mostly boys of about ten - participate in four rounds. The show begins with a series of questions about the programme. Then comes a physical challenge, a construction test, and a specialist subject chosen by the leader, which turns into an observation round half-way through. The top two progress to the final round, an obstacle course, and the four highest-scoring winners return for the grand final.
It's clear that the programme had a limited budget, but a good deal of imagination, a lot of atmosphere, and the clear enthusiasm of the contenders make up for this.
Champion
Kian
Theme music
Dobs Vye
Feedback