Big Game TV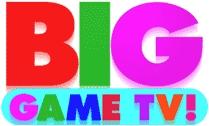 Host
Various
Co-hosts
Announcer: Alan Dedicoat
Broadcast
Sky Digital: 2004-7
ITV2: December 2005 to March 2006
Synopsis
Yet another channel offering cash prizes as an attempt to entice us to call their premium-rate number. This particular example was a bit more structured than the freeform style of other quiz channels, as a particular theme ran through each hour (for example, Big Event asked viewers to name the year that certain events occurred; Big Money was based on guessing the auction price of antiques and collectables; Big Bluff was basically a one-person version of Call My Bluff, etc). Believed to involve Timmy Mallett.
On 19 May 2006, officers from the Fraud Squad raided the offices of the channel after a Radio 4 investigation found that receptionists were told to ignore all incoming calls for long periods of time while 150-200 calls per minute were clocked up at 75p a time. Charges of fraud were dropped in late December 2006. The police said there had been no evidence of any act of criminality and the matter was left with OFCOM to consider any regulatory matters.
Then, in the midst of the TV phone-in scandal, Big Game TV made a quiet exit on Sunday 15 April 2007, but only for a revamp which saw the entire station revert to a single programme, The Daily Quiz. After nine days, the programme was taken off for 'a short break'. It never came back.
Trivia
At the time of the fraud raid, Big Game TV had been producing an afternoon series for ITV Play called The Daily Quiz. After the raids, ITV severed ties with Big Game TV and axed the programme immediately. Big Game TV later relaunced the programme (see Synopsis).
It took Big Game almost two months to change their statement from The Daily Quiz is taking a short break to The Daily Quiz is no longer broadcasting. We presume someone actually still works there...
Web links
The allegations regarding Big Game TV were published as part of a Parliamentary inquiry into the sector: 1 2
Feedback