Breaking Into Tesco
Host
Voiceover: Benedict Taylor
Co-host
Mentor: Simon Rimmer
Broadcast
Ricochet for Five, 3 March to 7 April 2008
Synopsis
Essentially a six-week PR piece for Tesco, presenting an airbrushed version of the product development process in the form of a game show.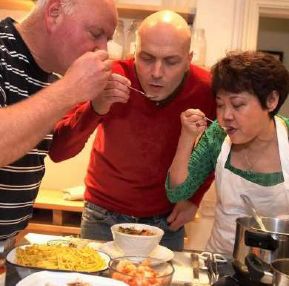 Eventual winner Nick Smallwood (left), Simon Rimmer and Jenny Cook test out Jenny's curry noodle soup
Each week, four contestants pitch new readymeals to Tesco. One falls by the wayside after failing to impress the public on a market stall, another is booted out by Tesco's customer tasting panel, and the last two go to the Tesco bigwigs, who select a winner. In between, the contestants "refine" their recipes, hone their pitches and get advice from all manner of experts, mainly from chef and restaurateur Simon Rimmer. The five weekly winners go forward to the grand final and the overall winning product (or some variation of it) goes on sale. The end.
Champion
Nick Smallwood with his butternut squash soup-in-a-bun. Launched in April 2008 to tie in with the show, it was dropped in October of the same year. Smallwood blamed the low sales on "blunders" by Tesco including unattractive packaging and marketing it as a high-end product rather than an impulse buy.
Trivia
One of the finalists was drag queen Wynnie La Freak, the hostess of Absolute Cobblers.
Feedback