Buy It Now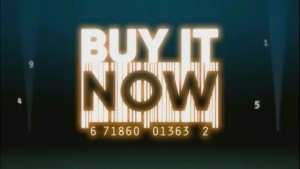 Host
Brian Conley (2018)
Rylan Clark-Neal (2019)
Broadcast
Glitterbox (a division of Studio Lambert) for Channel 4, 16 April to 25 May 2018 (30 episodes in 1 series)
as Buy It Now for Christmas, Studio Lambert North for Channel 4, 28 November to 19 December 2019 (4 episodes in 1 series)
Synopsis
Britain's inventors, makers, and licensees of products are being given the chance to sell their new wares in front of potential customers and the buyers of major retailers.
The inventors get 90 seconds to pitch their product, then there's a question-and-answer session with the audience focus group. The audience have indicated if they're interested in the product, but get 10 seconds to turn off their lights if the price isn't right.
Assuming at least one person buys the product, it's thrown to the commercial buyers, they buy all sorts of strange things and sell them online. They have the option, but not the obligation, to buy large quantities of these goods.
The show is edited at a very fast pace: each half-hour episode will tell the full stories of two products, and summarise one or two others. It's so fast that the emotional journey can be blunted.
Brian Conley is in his element talking with the audience, and he speaks for the viewer at home who wonders, "what does this product do?"
By Channel 4's standards, this was a reasonable hit at 5.30, sustaining 500,000 viewers across its run.
Title music
Chris Lewis, credited for "Music".
Web links
See also
Feedback