Carnal Knowledge
Host
Maria McErlane (and Robert Llewellyn from the 1993 pilot / Graham Norton from the 1996 series)
Broadcast
Rapido TV for Channel 4, 12 February 1993 (pilot)
Rapido TV and Granada for ITV, 15 February to 1 August 1996
Synopsis
We've had game shows about pets, babies, and religion, so it only a matter of time before some bright spark thought up of a quiz about sex.
Only memorable round involved a blackboard where the couples had to draw their favourite "position", with points awarded of they matched, a la Mr and Mrs. There must have been other rounds because this thing lasted an hour!?
Winners would win a weekend away somewhere, losers would win a spuriously-shaped candle.
Why anyone would be a contestant on a show like this is beyond us.
Inventor
Maria McErlane co-devised the show with the production company, Rapido TV.
Theme music
Simon Bass and Peter Stuart
Trivia
Graham Norton got the host's role after being recommended by comedian Jeff Green. Green was originally offered the job but turned it down, saying it was too rude.
Pictures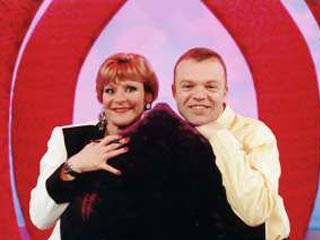 Eep.
Feedback