Celeb Cooking School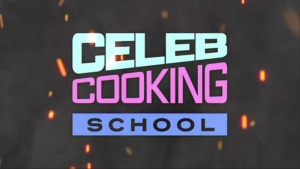 Host
Co-hosts
Giorgio Locatelli and Poppy O'Toole (judges)
Broadcast
Electric Ray and Motion Content Group for E4, 5 September 2022 to present
Synopsis
Every cooking show ever, but this time all yoofed up, and with celebrities. Channel 4's press office tells us:
Celebrity Cooking School (w/t) (8X60') tests whether any of our celeb cooks can be turned around when schooled by one of the best in the culinary business. All that most of the celebs will know about food to start with is how to order it, but working solo and matched in pairs, an intensive cookery crash course will have them sweating it out in the kitchen, as they hilariously tackle a series of complex cooking challenges well beyond their ability – leading to chaos in the kitchen.
They'll need to master crucial cookery techniques and gain confidence if they're to be crowned 'Best in Class' at the end of the series. But if they don't impress, they'll get an F for Fail and leave the school for good.
Not a lot to say here, except a) a tolerance for strong language is a must, b) Melvin is criminally underused, and c) Giorgio's appraisals are terse, frequently to the point of impotence. (Your dish is terrible. What are you supposed to do with this information?) And you know what, we'd rather he didn't shout at students who make mistakes - of course students are going to make mistakes, if they were perfect they wouldn't need to be in school.
If you can help us to expand this entry, please provide as much information as possible, using the feedback form below.
Champion
Laura Tott, despite serving raw chicken in the final.
Participants
2022
Kerry Katona (Atomic Kitten)
Toby Aromolaran (Love Islander)
Stevo the Madman (content creator, apparently)
Sam Thompson (Pete & Sam's Reality News)
Maeva D'Ascanio (Made in Chelsea)
Zeze Millz (presenter)
Laura Tott (First Dates)
Shaun Ryder (Happy Monday)
Paul Chowdhry (comedian)
Kim Woodburn (How Clean is Your House)
2023
Scott 'Scotty T' Timlin (Geordie Shore)
Blu Hydrangea (RuPaul's Drag Race UK contestant)
Louie Spence (Pineapple Dance Studios star)
Spudzz (YouTube person)
Ruth Codd (TikTok person)
Nancy Dell'Olio (ex-girlfriend of Sven-Göran Eriksson)
Ann Widdecombe (politician)
Nadia Rose (rapper)
Olivia Bentley (Made in Chelsea)
Key moments
There were some bloody disgraces in the first episode; one contestant thought it appropriate to serve a bowl of microwaved Rice Krispies, while another tried to oven a plastic tray.
Trivia
Aired Mondays and Tuesdays at 10pm.
Several episodes lifted music straight out of the Great British Menu soundbed.
Web links
See also
Bad Chefs, a similar show which aired around the same time.
Feedback