Celebrity Craft Masters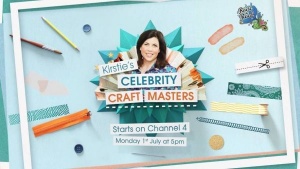 Host
Kirstie Allsopp
Co-hosts
Judges: Polly MacPherson and Piyush Suri
Narrator: Julie Hesmondhalgh
Broadcast
Raise the Roof Productions for Channel 4, 1 to 19 July 2019 (15 episodes in 1 series)
Synopsis
Kirstie Allsopp asks two celebrities to do some craft work at their own home. They'll be guided and assisted by a crafting expert, and the celeb brings three makes to Kirstie's "Crafting HQ".
We see the celeb and crafter working to fill a broad brief, showing their imagination. We see them work to fill a narrower brief, showing a different skill. And we see them work together to "upcycle" something, renovate a discarded or disused item.
For the final round, our celebs are asked to make an item from scratch, using commonplace tools and techniques. It's the only timed round, the work is to be completed in half an hour or so.
Passing judgement on the creations are the two judges, Polly Macpherson and Piyush Suri. They'll explain their preferences, critique the work, and explain why they're in favour of something or not. While there is nothing so formal as numbered scores, we're left in no doubt who won which challenge. This informality is a hallmark of the show, almost everyone drinks tea from a mug throughout, and it feels like we're eavesdropping on a circle of folk improving their own work. The best performer over the whole show wins a small trophy.
Celebrity Craft Masters is entirely on-brand for Kirstie Allsopp. It's homemade, has overtones of rustic life and an escape from the rat race. It's also on-brand for Channel 4, something very different at 5pm from The Chase and Pointless.
Trivia
Billed in some places as Kirstie's Celebrity Craft Masters.
Web links
See also
Feedback