Celebrity Super-Spa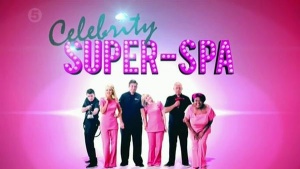 Host
Eoghan McDermott and Laura Jackson
Broadcast
ITV Studios and GroupM Entertainment for Channel 5, 13 to 20 September 2013 (6 episodes in 1 series)
Synopsis
Six celebrities join trainees at a spa in Liverpool. They're given various beauty tasks to do. The best trainee over the week is given £10,000 cash and a training contract.
We're not saying that this is derivative and clichéd — actually, yes we are. The celebrities are faded, the tasks unimaginative (wax the chests of a rugby team, spray-tan some people), and the overall format so familiar (when in doubt, fabricate a row) that it bred contempt. Eoghan McDermott and Laura Jackson tried to rescue the show, but no amount of spray-on quality presenting could change this sow's ear.
Champion
Shani Lane, who competed with John Burton-Race
Participants
James Argent (from The Only Way Is Essex)
John Burton-Race (chef)
Yvette Fielding (from Blue Peter)
Helen Flanagan (from Coronation Street)
Jody Latham (from Shameless)
Rustie Lee (chef)
Trivia
Celebrity Super-Spa launched in the middle of a Celebrity Big Brother finals night, went off the air for two nights, and continued each weeknight the following week. A highlights compilation — sorry, review of the week — aired on Friday 20 September, after the winner had been announced on the Thursday.
Web links
The show used @CelebritySuperSpa. Channel 5 was unable to afford enough social media accounts (even though they're free), and turned it into @StandByYourMan a few months later.
Feedback