Confessions

Host
Broadcast
Hat Trick Productions for BBC1, 1 April 1995 to 1 July 1998 (40 episodes in 4 series)
Synopsis
Only the first series could be called a game show but it was good fun all the same.
Three contestants would be set up by their friends and given 180 points each. Simon would read out a clue to a previous misdemeanour that that player had done and the player had to give the right confession. If that was the one he was referring to, all well and good. If not however, they'd just embarrassed themselves. They also lost 20 points and were given another clue. This happened a maximum of one more time, and if they still hadn't got it they lost another 20 points and Simon revealed what they'd done. Then he'd move onto the next contestant and so on.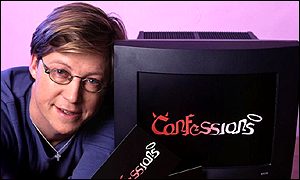 Simon Mayo
Round 2 was just like round one.
Round 3 was a bit different, it was Confessing against the clock. However, only one contestant was on set at any one time so they never knew their opponents scores. Instead of losing 20 everytime a clue was read out, their score would start counting down, 1 point a second until they buzzed in and confessed. When they got the right confession their game would be over.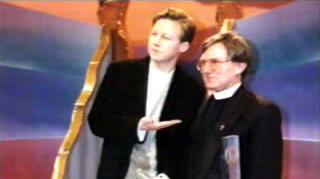 Simon with game show veteran, the Reverend David Smith
Once the other two had been bought on stage to do the same, whoever had the most points won a holiday, the other two some statues. This led to much writing in on Points of View where it was thought that rewarding bad acts was wrong.
Personally, these terrible acts were more embarrassing than terrible and usually funny. But even so, the next series dropped the game show format.
Inventor
Based on an idea by Simon Mayo himself.
Theme music
Composed by Philip Pope.
Merchandise
Several books of Confessions by Simon Mayo were published:
Audio book
Feedback