Dance Factory
Synopsis
Strictly Dance Fever for kids, basically, except that instead of doing different styles every week, each pair had one style that they stuck to for the whole series.
If you can help us to expand this entry, please provide as much information as possible, using the feedback form below.
Champions
Claire Johnstone and Gavin Boyle.
Theme music
Dobs Vye
Pictures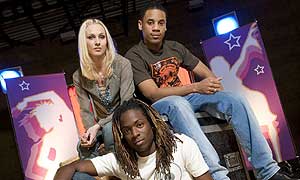 Yates (right) and mates Camilla Dallerup and Nigel Clarke
Feedback