Daphne Fowler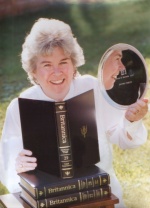 Biography
Retired bank secretary from Weston-super-Mare, easily Britain's best known female quiz contestant. She has won numerous game shows on TV and radio, including Brain of Britain and many top-of-the-Finals-Board trophies on Fifteen-to-One, including a score of 432 (out of 433).
Other programmes on which she has appeared include: Bullseye, Jeopardy! (for which she postponed her honeymoon), Masterteam, Runway and Winner Takes All.
Trivia
She learnt huge lists of names and birth dates for Going for Gold so that when Henry Kelly read out a question beginning "A composer born in 1759..." she already knew the answer. Her efforts won her a trip to the Seoul Olympics.
Web links
See also
Weaver's Week career retrospective.
Feedback