David Coleman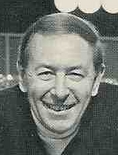 Biography
Presenter of sports quiz A Question of Sport for something like 18 series. Anchor, lynchpin and safety blanket of the BBC's sports output since time immemorial until he retired after the Sydney 2000 games, his 16th Olympics. Thanks to his idiosyncrasies (and if you think we're typing that word ever again you're sadly mistaken) he was much parodied by satire-meets-latex fest Spitting Image, usually centering around his fondness for the word 'eeeeeerrererer'.
He died on 21 December 2013 at the age of 87.
Trivia
Private Eye's Colemanballs feature, where readers report unfortunate, inappropriate or illogical comments from commentators and broadcasters, is named after him.
Not to be confused with another man with an identical name who has directed some game shows, such as Codex.
Web links
Feedback