Dick Strawbridge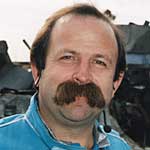 Biography
It should surprise no-one that "Colonel Dick", as he is often known, is an ex-military man. Since retiring from the army he's been putting his engineering skills to good use, running educational workshops, appearing on (and winning) Scrapheap Challenge, and presenting Crafty Tricks of War. The BBC show It's Not Easy Being Green followed his family's efforts to achieve a more self-sufficient lifestyle and ran to three series.
He went on to feature in various technology and food formats, often alongside his eldest son, James. For a number of years, he and his second wife Angel starred in Escape to the Château, which followed their restoration of a 19th century castle in Northern France, and became one of Channel 4's most successful series.
Trivia
He was awarded the MBE in 1993.
He was a regular captain on the final US series of Junkyard Mega-Wars, which as far as we know was never aired over here.
Although commonly known as "Colonel Dick", in reality he only rose to Lieutenant-Colonel (one rank below colonel).
He first grew his trademark moustache at the age of 16 because he always cut his top lip when shaving. "But I was asked to shave it off at Sandhurst, and in the Army you're not allowed to have a moustache hanging below the top of your top lip. I think that was the first time I ever told my Regimental Sergeant Major to f*** off."
Web links
Official Dick Strawbridge website
Feedback