Dining Stars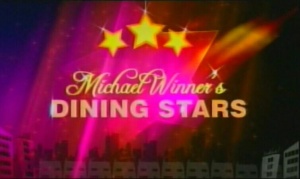 Host
Voiceover: Fay Ripley
Co-hosts
Critic: Michael Winner
Broadcast
12 Yard and Hat Trick Productions in association with Michael Winner Productions for ITV1, 26 February to 19 March 2010 (4 episodes in 1 series)
Synopsis
Calm down dear, it's only a daytime show bumped up to primetime. Michael Winner visits two amateur cooks homes each week for a dinner party, and reviews the experience - food, service, guests, ambience etc - just as if he was in a high-class restaurant. After his visits, he invites the cooks to find out his opinion of their dinner party in a face-to-face review. Following this, he tells the cooks whether he has decided to award them one of his Dining Stars. These are awards shaped like one, two, or three stars, to indicate Michael Winner's overall opinion of the dinner party. Those who do not receive a Dining Star leave the competition, while those who receive an award, go forward for the chance to cook for Michael Winner, and celebrity guests at an end of series dinner party staged by Michael Winner himself.
If you can help us to expand this entry, please provide as much information as possible, using the feedback form below.
Trivia
Not shown on STV, who preferred to fill the slot with another ITV show they had previously rejected, Amanda Holden's Fantasy Lives.
The programme proved quite a turn-off for viewers. The first episode lost over 66% of the audience it inherited from Coronation Street aired immediately before it. The second episode lost almost 76% of its inherited audience, before it bounced back slightly to lose over 72% of its inherited audience by its third episode. The final episode lost over 71% of its inherited audience. However the figure could have been far worse had Coronation Street not experienced an uncharacteristicly low rating immediately before it.
The celebrity guests at the end of series dinner party were Geraldine Lynton-Edwards, Christine Bleakley, Giorgio Locatelli, Kym Marsh, Sir Roger Moore, Lady Kristina Moore, and Andrew Neill.
Champion
Justine Forrest, who as a result of her first appearance on the show, also appeared on Harry Hill's TV Burp.
See also
Feedback