Energize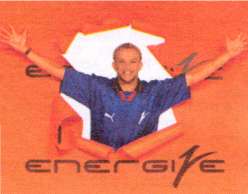 Host
Broadcast
Rocking Horse Productions and Westcountry for ITV, 5 May to 23 June 1999 (8 episodes in 1 series + 2 unaired)
Synopsis
In short, this isn't a million miles away from a We are the Champions for the 90s.
Olympic silver medallist and World Indoor 400m champion Jamie Baulch puts down his bottle of peroxide for a moment to host this energetic show featuring some of the more obscure sports.
Three teams compete in a range of challenges, such as an archery competition, as well as battling it out on the Energize Challenge Course. Overall, it's nothing to write home about but it does make a nice change from the gunge shows.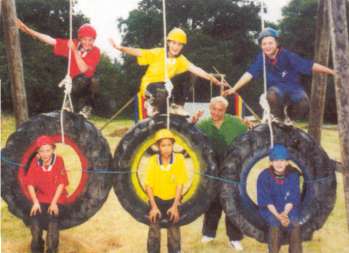 Jamie Baulch (middle right) with three pairs of contestants, preparing for the Challenge Course
Trivia
The series was originally a sports magazine programme in the Westcountry region only, hosted by Sharron Davies. It didn't get networked until the game show format was introduced.
It was also a Government-backed programme, produced in association with Sports England. What would everyone else say?
Feedback