Eternal Glory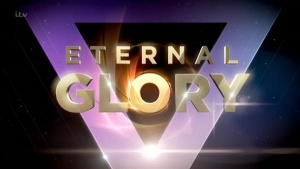 Host
Co-hosts
Professor Greg Whyte
Broadcast
Twofour for ITV, 6 October to 10 November 2015 (6 episodes in 1 series)
Synopsis
Eight sports stars take a number of physical, mental, and psychological tests. The worst performers each week take part in a "night duel", one leaves, and the last person standing is the ultimate champion.
Each show was split into four parts. Part one was a test of endurance - who can stand on one leg the longest without falling into the sea? The winners in this round took an advantage to part two, a test of controlling one's body - heart rate, or balancing on team-mates. The worst performer in this round was dumped straight into the "night duel".
Everyone else was involved in the next game, typically a spectacular event - deflect balls fired at you, or retrieve something from a sunken boat. Again, the worst performer went to the "night duel", everyone else was safe for the next edition.
The night duel was a test of patience and concentration. For example, two players would stare at five perspex rods until the lights went out. One rod would remain lit, and whoever grabbed that rod would win the point. It looked beautiful.
All of the individual events were developed to be different from traditional sports. Sprinters would sometimes have an advantage from fast reactions, but there was no pure test of power. Endurance athletes would have an advantage from greater oxygen control, but there was no test of holding one's breath. Professor Greg Whyte, who devised many of the games, explained what he expected to find with host Richard Bacon.
For Eternal Glory, ITV invented some new sports, and got some sports stars of the recent past to demonstrate them. Some of the sports made for good television, some did not. Some were interesting, some were crushingly dull.
Champion
Gail Emms
Participants
James Cracknell (rowing)
Gail Emms (badminton)
Jade Johnson (long jump)
Matt Le Tissier (football)
Liz McColgan (runner)
Christian Malcolm (sprints)
Fatima Whitbread (javelin)
Shane Williams (rugby)
Inventor
Based on a format by Bruno Wyndaele, distributed by Small World IFT and The New Flemish Primitives.
Theme music
Paul Farrer was credited as "Music Composer".
Trivia
Filmed on location in Croatia.
See also
Feedback