Famous and Fearless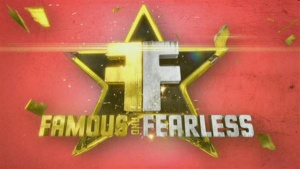 Host
Co-hosts
Trackside host: Clare Balding
Pundit: Jack Osbourne
Guest pundit: David Haye
Commentator: Nick Fellows
Referee: Stuart Higgs
Trainers: Jeremy Hayes (BMX), Will Stephenson (Street Luge), Lee Sweetland (Mini Moto Motorcycling), Jamie Stickler (Micro Powerboats Racing), Adrian Wordsworth (Inline Speed Skating), Les Bran (Hovercraft Racing), Rodney Clarke (Power Skateboarding), Dylan Jones (Enduro Motorcycling), Richard Brunning (Go-Karting), Nolan Barnwell (Extreme Abseiling), Ian Jamieson (Powerbocking), Guy Hodgkins (Dirt Buggy Racing)
Broadcast
Princess Productions for Channel 4, 2 to 7 January 2011 (6 episodes in 1 series)
Synopsis
Broadcasting live from Liverpool's Echo Arena over six consecutive nights, Chris Evans and Clare Balding host as a group of eight celebrities, compete against each other in a series of extreme, adrenaline-fuelled challenges - everything from BMX biking to street luge.
Each episode follows broadly the same format, with each night seeing the men and the women compete separately in one of two events (a full listing of these events can be found in the Trivia section below). One of these events takes place live in the arena, while the other event, due to logistics, is pre-recorded at an off-site location. The events are switched each night, so one night the men compete live in front of the crowd, while the next night the women do, and so on.
Points are dished out each at the end of each event, and are added to the scoreboard which runs all week, while the winning man and woman from each evening's events go head-to-head in the Face Off. This challenge, again staged live in the arena, is typically rather more spectacular than the main competition events seen earlier. The celebrity who wins the Face Off wins £10,000 for their chosen charity.
Before, in-between and after each event, Chris Evans chats in the pod – a Perspex cube housing a small studio, constructed over part of the arena seating – to a series of guests, pundits, and anyone else they can get in. In addition, the trackside host Clare Balding also talks to the participants before and after each event.
On the final night, the men and woman each compete in two events; however, the evening otherwise runs largely the same as the previous five, with a notable exception. At the end of all the events, the two celebrities who have finished bottom on their respective scoreboards, take part in a short challenge. The celebrity who loses this challenge has to take part in a forfeit. This involves being strapped into the front seat of a scrap car, before it is hoisted vertically by its rear axle up, high up into the arena. Once it is suspended from the roof of the arena, the celebrity pushes a button, which releases the car to fall down onto a pile of scrap cars beneath. In terms of the game play, it is almost completely pointless, but for those craving a bit more action, it's better than another five minutes spent in the pod listening to supposed pundits.
After this is complete, the two celebrities who have topped their respective scoreboards take part in the final Face Off, a return of the popular Demolition Derby from earlier in the week. Here, the celebrities must drive against each other (as opposed to against experts in a time trial like earlier in the week). Crashing, barging, and otherwise causing absolute carnage is actively encouraged, with the only rules being no head on crashes, and no crashing into the driver's side door. The celebrity who completes three laps of the oval track laid out on the arena floor, and crosses the finish line first is declared the overall winner, and takes home £50,000 for their chosen charity.
It would be something of an understatement to say the programme met with an almost exclusively negative reaction. Comments to the extent of 'Worst programme ever created by mankind' were uttered in response to it. However, looking at the programme with a level head and an open mind shows that while by no means perfect, it wasn't all that bad. Famous & Fearless may have needed some tweaking, but they were relatively minor tweaks, and it was a long way from being the 'worst programme ever'. A little common sense with its scheduling for example would have given it a better chance. We wonder what the Channel 4 schedulers were thinking by pitting it against the soaps most nights, rather than utilising the 9pm slot that had worked so well for Celebrity Big Brother, in January of previous years, and for its predecessor The Games a few years earlier. A streamlining of the programme, reducing its running time from 90 to 60 minutes, by eliminating the at times excessive amount of chat would also have been an easy fix. Finally, a few more extreme events in the arena would have been good – there's a bit of a gulf between a BMX bike race and a Demolition Derby. Choosing events closer to the Demolition Derby end of the scale (whilst still bearing in mind the constraints of an arena), would also have helped.
Otherwise, the programme was quite sound. Chris Evans is a consummate host of live TV programmes, while Clare Balding, whilst perhaps not an obvious choice, is actually well-suited to her role. Staging the programme in front of a large arena crowd was also a good idea. For large action-based TV programmes, there are some times when arenas just work better than TV studios, no matter how large (compare the two incarnations of Gladiators for example). Finally, although perhaps needing more of them, some of the events did genuinely require the participants to be 'fearless', and were quite exciting to watch, even when watching from home.
In certain quarters, Famous & Fearless will always be regarded as a flop, however that is unfair, as all things considered, it did alright, and had potential. As noted, it wasn't perfect, but it didn't need that much work, and as such, it's a shame that a second series will not come to pass.
Champion
Charley Boorman
Participants
Dame Kelly Holmes (double Olympic champion)
Jenny Frost (ex-Atomic Kitten singer)
Sarah Jayne Dunn (ex-Hollyoaks actress)
Kacey Ainsworth (ex-EastEnders actress)
Jonah Lomu (ex-rugby player)
Rufus Hound (comedian)
Charley Boorman (adventurer)
Sam Branson (musician, and son of Richard)
Catchphrases
'Liverpool! Are you ready? 5...4...3...2...1...(klaxon)
Theme music
Paul Farrer
Trivia
Although the programme was staged at and broadcast from Liverpool's Echo Arena, the pre-launch trailers were filmed at London's Wembley Arena.
The challenges undertaken by the celebrities were -
Day 1
Men's Challenge - BMX Biking
Women's Challenge - Street Luge
The Face Off - Car Flipping
Day 2
Men's Challenge - Micro Powerboat Racing
Women's Challenge - Mini Moto Motorcycling
The Face Off - Monster Truck Assault Course
Day 3
Men's Challenge - Inline Speed Skating
Women's Challenge - Hovercraft Racing
The Face Off - Demolition Derby
Day 4
Men's Challenge - Enduro Motorcycling
Women's Challenge - Power Skateboarding
The Face Off - Car Jumping
Day 5
Men's Challenge - Go-Karting
Women's Challenge - Extreme Abseiling
The Face Off - Car Dominoes
Day 6
Men's Challenges - Dirt Buggy Racing and Mini Moto Motorcycling
Women's Challenges - Powerbocking (spring-loaded stilts) and Go-Karting
The Face Off - Demolition Derby
Web links
See also
The Games - another celebrity sports competition.
Feedback