Fight School (1)
Host
Narrator: Lee Boardman
Co-Hosts
Grand Master: Simon Lau
Shifus (Teachers): Clive Elliott, Nathan Lewis and Becky Riggs
Broadcast
Granada for Sky One, 10 October to 28 November 2002 (8 episodes in 1 series)
Synopsis
Five male and five female prize-winning martial art professionals (each representing a different martial art) competed in a martial-arts based contest at a Shaolin temple in Beijing.
In each episode the Grand Master sets a number of tasks. At the end of the episode he chooses the strongest and weakest contestant. The strongest contestant then has the choice as to who will face off against the weakest contestant in the Elimination play-off at the end of the episode, this could be any contestant, including themselves.
The elimination took the place of a Sparring duel over 3 rounds, with a Shifu prepping them up between each round. However, because it was freestyle sparring and the contestants had different martial art styles, there is no guaranteed way to decide who has won and is always decided by the Grand Master - sometimes leading to questionable outcomes.
Another disappointment of the show was how it really wasn't that hard. Sure, punching ice in a barrel is hard, but does it really have anything to do with martial arts? The living quarters were far too cosy in our opinion and the whole process should have been toughened up to how it actually is at a Shaolin temple - exhausting labour with poor food.
To sum up, a good idea which just wasn't implemented well and didn't push the participants hard enough.
Key Moments
When women beat the men in the final round, leading to humiliation.
Winner
Paul Bernard (kickboxer)
Trivia
One of the students was Don Klass, brother of Myleene Klass from Hear'say - he also appeared on Popstars playing the piano for his sister.
The Grand Master once trained alongside Bruce Lee.
Pictures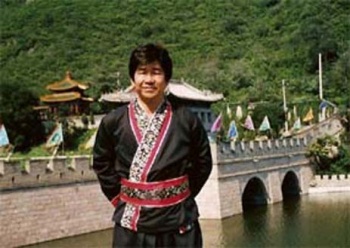 Simon Lao, the Grandmaster
Video
A randomly-edited compilation of the series
See Also
Feedback