Flipping Fast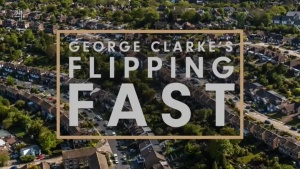 Host
George Clarke, Scarlette and Stuart Douglas
Broadcast
South Shore for Channel 4, 25 May to 29 June 2022 (6 episodes in 1 series)
Synopsis
A Channel 4 press release summed up the show
Flipping Fast will follow six teams from across the UK who think they have what it takes to make the big time as property entrepreneurs, offering them a truly life changing chance to start their own property business. The budding developers will each be given a whopping £100,000 investment to kickstart their business, competing against each other to see who can make the most profit from property in just 12 months.
The competitors will receive support and advice from George Clarke (from Amazing Spaces), Scarlette and Stuart Douglas (Worst House on the Street). The contestants only get the chance to find out how their competitors are doing when each property listing goes live. At the end of the process, the most successful property flipper will be revealed. In addition to keeping their profits, the winner gets a cash prize of the full £100,000 investment given to them at the beginning of the process.
Though six teams take part in the contest, the average episode follows just two of them. That helps us to concentrate on the players and get to know them. Who will bring their own caravan to live in; who will call in free favours to do up the house and boost their profit?
Each show is a self-contained story: our heroes buy a house, do it up, and sell it. The reveal at the end is underwhelming: rather than the wackily-decorated space we got on Changing Rooms, we see a sober new kitchen, and hear some numbers bandied about.
Flipping Fast has one hard rule: do not break the £100,000 budget. Each team was allocated a hundred grand of South Shore's cash; only the winners keep it. Should a team go overdrawn on their allowance, they'll be eliminated from the game at once. They mentioned this rule so often that it becomes Chekhov's Gun, foreshadowing someone being cast out.
The show finds its winner by net profit - the price the house fetched, minus the price paid, materials, and seller's fees. There's no direct charge for the contestants' labour. Is this entirely fair? Will it find the best winner? That's a bigger question, contingent on your opinion of the housing bubble of the early 21st century. Will it find a winner who has earned a big prize? Almost certainly.
Inventor
Development by Jonny Coller and Ed Phillips
Title music
The credits say "Music by Pedigree Cuts, Boost Music, London Sync Music, Audio Network, Zone Music, Warner Chappell Production Music". Basically, library music and nothing commissioned for the show.
Trivia
Billed in some sources as George Clarke's Flipping Fast.
Web links
See also
Feedback