Flockstars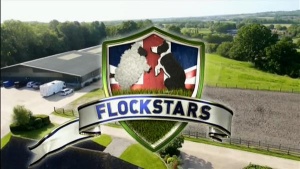 Host
Broadcast
Liberty Bell Productions for ITV, 30 July to 17 September 2015 (8 episodes in 1 series)
Synopsis
"Celebrities doing sheepdog trials! Ha ha, ITV's scraping the barrel now." The prevailing wisdom when we heard about Flockstars was that it would be a low-budget low-quality farce. In fact, it's none of these things.
Eight ITV celebrities take part - stars of ITV shows, familiar names from I'm a Celebrity... Get Me Out of Here!, pop stars. Sensitive casting provides a mix of ages and abilities, every viewer has someone to root for. The celebs have been paired with professional sheepdogs, and spent some weeks training together.
The heats were time trial events, held in the Flockstars arena (a show-jumping hall near Hastings). Drive the sheep up the arena, over a bridge, around a hedge, and into a pen. Sounds simple on paper, and looked simple when the best celebrities did it. Other times...
The semi-finals introduced geese, and head-to-head contests.
We could watch the show hoping for the epic fail, but we're more likely to see shepherding excellence. Flockstars knew that it was theatre of the absurd, and didn't need to spell this out to the viewers. Jim Rosenthal's commentary said what was happening, without laughing at the performances. We can do that ourselves.
A bizarre idea, made by people who understand television. By keeping the show to 30 minutes, they were able to make their point briskly and not labour it. The result was a show that required no effort from the viewer, it entertained and wowed in equal measure. And it's far better than the snarkers want to admit.
Champions
Brendan Cole with Hoggy
Participants
The other players were:
Tony Blackburn is paired with Bess
Kelle Bryan with Max
Fazer from N-Dubz with Jack
Lesley Joseph with Gyp
Amanda Lamb with Midge
Lee Pearson with Skye
Wendi Peters with Bill.
Theme music
Paul Farrer is credited as "Composer".
Trivia
Flockstars was included in the "ITV Documentaries" sponsorship package, held by Nationwide.
The slot (8.30 on Thursday night in the summer) was sufficiently high-profile to attract decent celebrities, but far enough out from the Saturday night cauldron that failure didn't matter.
Web links
See also
Feedback