Gamesmaster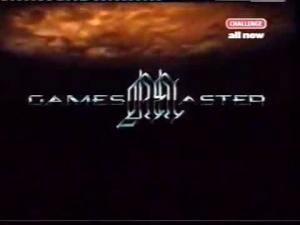 Host
Dominik Diamond (1992-93, 1994-98)
Dexter Fletcher (1993-4)
Robert Florence (2021-)
Co-hosts
The Gamesmaster:
Patrick Moore (1992-98)
Trevor McDonald (2021-)
Various assistants ranging from cloaked dwarves, a monk, a diver, scantily clad women in the guise of angels and so on.
Revival co-hosts: Frankie Ward and Ty Logan
Broadcast
Hewland International for Channel 4, 7 January 1992 to 3 February 1998 (126 episodes in 7 series, 1996-7 as New Gamesmaster)
Future Studios for E4, 24 November 2021 to present
Synopsis
Games, games, games
More of a games show than a game show. Lots of discussion of the latest video and computer games, with usually at least two or three different challenges per show. These challenges involved a number of participants playing a game (usually arcade or console), commentated over by a non-entity from the video games press.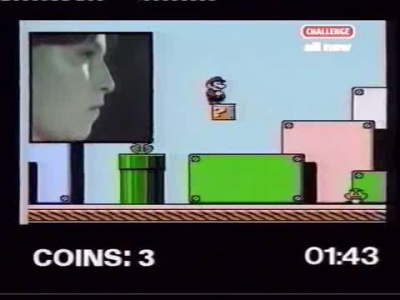 Kiddy concentration on Super Mario Bros. 3
Former Scottish stand-up comedian Dominik Diamond (pictured) would award a Golden Gamesmaster Joystick to the player performing best and ruthlessly take the piss out of all the rest. One challenge per show would involve stars of variable celebrity. Half of the sole Dexter Fletcher series was spent on a Team Championship where 27 teams of three kiddies bragged of their prowess at computer games, only for 26 of them to be proved wrong.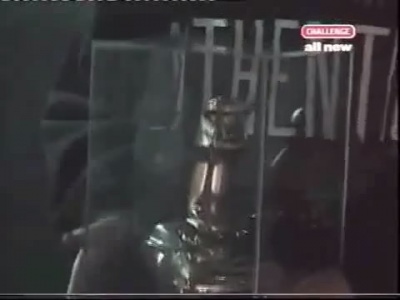 That's probably worth £4.99 on eBay now (with £5.00 Postage & Packaging).
Cheats and tips
The show also featured reviews of the latest games, any review scoring under 88% indicating a game with few or no redeeming features. Most episodes also saw kids ask the Gamesmaster himself - an animated head of Patrick Moore (famous astronomer and advocate of computer games) viewed in a hall of mirrors - for tips or cheats on sundry console games.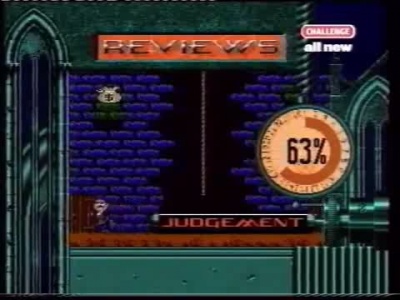 The Addams Family didn't impress the GM jury.
Some episodes had random features, usually with D. Diamond sunning himself in some exotic and/or game-related location. Each series was set in a different location: churches, submarines, dungeons, desert islands, heaven, hell, Milton Keynes and so forth (see "Trivia" below).
Essential teatime treat for over five years, largely due to Dominik's single-and-a-bit entendres and innuendo.
Key moments
Some memorably wacky challenges such as "Who can discover the best secret moves on Tekken II?" and watching two-year-old kiddies competing on educational games.
Lots of very out-of-place celebrities trying to convince the kidz that they were "it".
Gordon Burns absolutely kicking ass on an obscure Tetris-like game.
Dave "Games Animal" Perry dying on Super Mario 64 within 13 seconds and subsequently throwing a monster moody. Apparently, there was real life animosity between Perry and Diamond at the time and Perry believed he had been set up after having to play on a game that wasn't available in the UK while his opponent (a friend of Diamond's) had been practising for months.

Ooh! Nasty!
Trivia
Dominik Diamond left before Series 3 as he wasn't happy with McDonalds becoming the sponsor of the show.
Nicholas Parsons was first choice to play the Gamesmaster, but the facial distortion techniques applied didn't work properly. Hence Patrick got the job and all the kiddy street-cred that came with it.
Unsurprisingly, Gamesmaster was at the forefront of technological advances: an experimental episode in 1994 took comments from an Internet Relay Chat group and put them on-screen as teletext subtitles. Another episode in the same series was presented live from a computer game exhibition, only to run out of time part-way through a challenge.
The locations for each series were as follows:
Series 1 (1992) - church
Series 2 (1992/3) - oil rig
Series 3 (1993/4) - prison
Series 4 (1994/5) - Hell
Series 5 (1995/6) - Heaven
Series 6 (1996/7) - Atlantis
Series 7 (1997/8) - desert island
Series 7 was made in a bit of a hurry, because they only found out they were commissioned weeks before broadcast; apparently no-one from Channel 4 actually watched the show, and thus no-one picked up on the cues that they didn't want to make it any more.
Theme music
Composed by Julian Wastall.
Merchandise
A Gamesmaster computer magazine was launched. It's still around today.
Web links
"Gamesmaster: The Inside Story - a long and very good article by Ellie Gibson, reflecting on Gamesmaster from 2013.
Videos

The very first episode.

The very last episode.
Feedback