Gary Lineker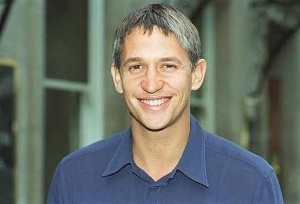 Biography
Oh come on, you must know who Gary Lineker is. Cheerful chappy, likes a bit of a kickabout, obsessed with potato snacks. Yeah, him. Since retiring as the nice man of English football, he's become the nice man of sports presentation for the BBC.
Trivia
He has been awarded honorary degrees from both Leicester University (his home town) and Loughborough University (just up the road). He's also a Freeman of the city of Leicester and is allowed to herd his cattle through the Haymarket Centre any time he likes. Except after 8pm when it's closed, obviously.
Stars in a long-running series of ads for Leicester-based snackfood purveyors, Walkers.
Thanks to his spells playing for foreign football clubs, he speaks fluent Spanish and Japanese.
Contact
c/o SFX Sports Group, 35/36 Grosvenor Street, London, W1K 4QX
Web links
Feedback