Gods of the Game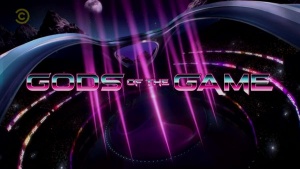 Host
Tom Rosenthal and Bradley Wiggins
Co-hosts
Commentators: Trish Sullivan and Dunky D (played by Gabby Best and Hammed Animashaun)
Broadcast
Mad Monk for Comedy Central, 12 March - 9 April 2020 (5 episodes in 1 series)
Synopsis
Can a mere mortal beat a trained professional sportsperson? This show aims to find out.
Three competitors will face off against three familiar faces - tennis's Tim Henman, boxer Nicola Adams, athlete Mo Farah, swimmer Rebecca Adlington. Top athletes who even we've heard of, and we know nothing about sportsball.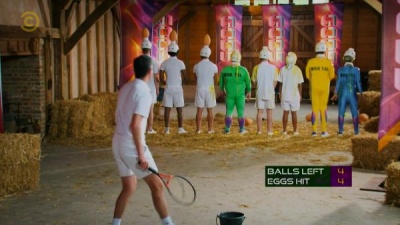 Tim Henman has a cracking serve.
The mortals will be challenged in events close to the athletes' regular events. Tim Henman, for instance, was challenged to hit eggs off chickens' heads. To level things up, the mortals could pick advantages - the larger the advantage, the fewer points they'd get if they won.
Repeat this three times across the half-hour show. Whichever mortal's got the most points wins, and gets to play their national anthem over the closing credits.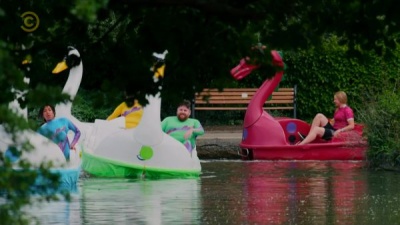 Beat the sports star on a duck pedalo.
Gods of the Game is another brainwave from Gary Monaghan, and clearly shares a style with his earlier hits Banzai and Wild Things. People doing things related to their normal job, but with a weird twist, and all soundtracked by some unfamilar music. There are unusual costumes, too: the mortals perform while wearing colourful lycra onepiece suits.
Tom Rosenthal and Bradley Wiggins talked in a CGI stadium, and didn't appear in the main show. Commentary was by comedy creations "Trish Sullivan", with exclamations and wows from "Dunky D".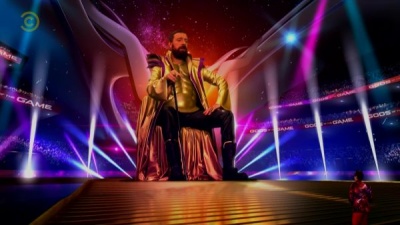 A giant Bradley Wiggins talks with Tom Rosenthal.
Inventor
Gary Monaghan
Feedback