Grand Slam (1)
Host
Co-hosts
Commentators: John Beard (series 1)
Jeremy Flint (series 2 & 3)
Victor Mollo and Tony Priday (series 3)
Broadcast
BBC2, 11 October 1981 to 20 December 1983 (3 series)
Synopsis
An attempt to do for contract bridge what The Master Game had done for chess. The first two series were UK vs USA tournaments with two pairs from each country; the third was a knockout competition between clubs from around the UK.
The teams for the first two series were Pat Davies and Nicola Gardener, and Jeremy Flint and Claude Rodrigue for the UK; and Matthew Granovetter and Neil Silverman, and Jackie Mitchell and Gail Moss for the USA. With Flint moving over to the commentator role in series 2, Tony Priday took his place among the players.
Other than that, it was pretty much what you'd expect: people playing Bridge.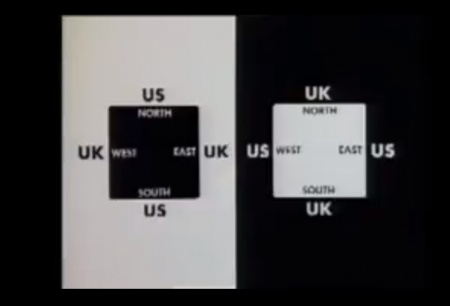 Well, I think that's cleared that up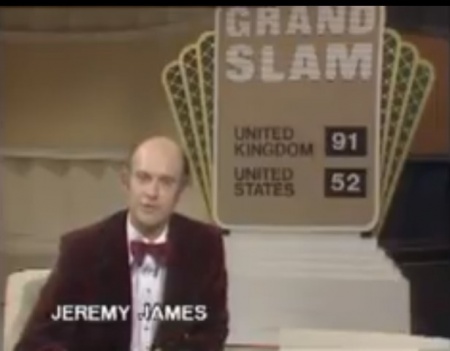 The score was kept in IMPs (International Match Points)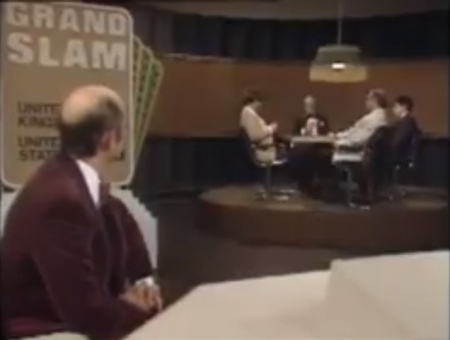 And in the brown corneeeeeerrrrr....
The honours cards are highlighted, because they always match with Mr Bun the Baker
Trivia
Amazingly, books publishing the deals and the players' thought processes could be purchased in advance of the broadcasts for the first two series.
Produced by future Endemol UK supremo Peter Bazalgette.
Nicola Gardener went over to Channel 4 to host Master Bridge.
Web links
See also
Feedback