Hardeep Singh Kohli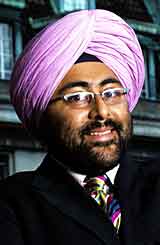 Biography
Glaswegian comic and presenter/reporter for various programmes including The One Show. Unlikely to appear on screen again after being accused of sexual harassment in 2020.
Trivia
He is the brother of comic actor Sanjeev Kohli.
He is known for wearing turbans in a range of colours, though he's not actually a "practising" Sikh. He's also been known to don a kilt; there are very few people who can pull off that tricky turban/kilt combo, and Singh Kohli isn't one of them.
Feedback