Hughie Green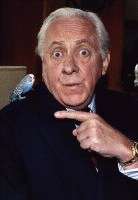 Biography
Green is often misrepresented as being a Canadian by birth. In fact, he was born in London in 1920, but after moving to Canada he became a Canadian citizen. At the age of 14, he was given his own BBC Radio show and by 15 he was the highest-paid child star in Great Britain.
He went on to create and star as host of the popular television game shows Double Your Money and The Sky's the Limit and the talent show Opportunity Knocks. After his death in 1997, it was disclosed that he was the father of TV presenter Paula Yates.
Trivia
During WWII, he was a pilot with the Royal Canadian Air Force. His job was to ferry aeroplanes across the Atlantic; as a result he got to fly most types of aeroplane in use at the time. He flew the Duke and Duchess of Kent on their honeymoon, and such was his passion for flying that he still occasionally worked as a charter pilot even when Double Your Money was at its height.
Green once presented a show in the USSR, where a TV set was the top prize as no cash prizes were allowed.
His epitaph in Golders Green crematorium reads: You were the star that made opportunity knock. You will never be forgotten. (see image)
Web links
Feedback