Humble Pie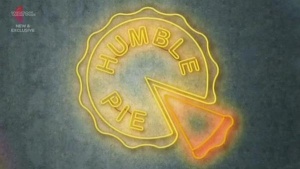 Host
Co-hosts
Marco Pierre White (credited as "The Taster")
Trystan Gravelle (narrator)
Broadcast
Fizz for Watch, 16 October to 4 December 2015 (8 episodes in 1 series)
Synopsis
Four amateur cooks are judged by Marco Pierre-White, and by each other.
In three rounds, the competitors cook a dish, then taste and critique each others' cooking. Any of them can bail out of the game, and take home a small prize. But if no-one presses to leave, Marco Pierre-White has selected someone who will leave with nothing.
The show's spirit is the antithesis of The Great British Bake Off, critical and destructive, often to the point of outright lying. The structure is familiar - the starter is a technical challenge, with suppled ingredients and an outline recipe. The main course has a required ingredient, while the signature dessert is entirely of the players' choosing.
Money for the players choosing to leave is small, and deliberately so - while the winner gets £2500, the leavers will get £100, £200, and £500. Will anyone swallow their pride and admit they've made the worst dish? Or will they hope to read Marco's inscrutible mind?
Melanie Sykes hosts the programme, and gives some brief interviews during the cooking. Trystan Gravelle handles voice-over duties with an engaging Welsh burr; he introduces the contestants, and narrates the cookery sequences.
An interesting idea, turned into television with quite some character.
Web Links
The show publicised the hashtag #humblepie.
See also
Feedback