Incognito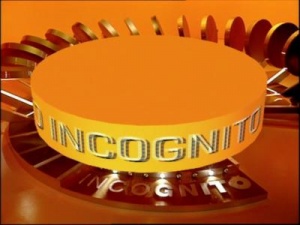 Host
Broadcast
Cactus TV and BBC North for BBC1, 25 October 1995 to 10 January 1997 (82 episodes in 2 series)
Synopsis
dofighwroughneorgincognitowasreallyratheraveragevemrpgerpgij.
Incognito: in disguise. Do you see?
Basic idea was that three contestants tried to find answers to general knowledge questions or cryptic clues by looking at a constantly spinning wheel, the answers to which were hidden between duff letters on the wheel.
And that's it really, save for some variations. There was the quiz wheel, where the contestants looked for answers to questions, and a puzzle wheel, where the contestants were trying to find the answer to a cryptic crossword clue on the wheel.
In addition, each contestant got their own special word wheel where they went solo and were given thirty seconds to spot as many words as possible. And then say the word and spell it.
The problem is that this show was a little too nondescript. It was stylishly done, and sardonically hosted by TV's Mr. Cool Peter Smith. Nevertheless, it just boiled down to a one-dimensional version of Scottish TV's Now You See It.
Inventor
Devised by Amanda and Simon Ross.
Theme music
Steve Duberry
Trivia
Aired at 3.05pm before Children's BBC programming, but the last seven episodes moved to 12.05pm just after BBC Lunchtime News.
Web links
Opening titles from the BBC Motion Graphics Archive
Videos

Four full episodes.
Feedback