Inn Quiz
Host
Dave Lanning
Broadcast
TVS (regional), 17 January to 28 March 1985 (8 episodes in 1 series)
Synopsis
Two local pubs battle it out in a sporting knowledge contest, with prizes including an FA Cup-style trophy and tankards. Notable for the rather overstaffed teams of five on both sides, and rather too many fleece jackets for our liking.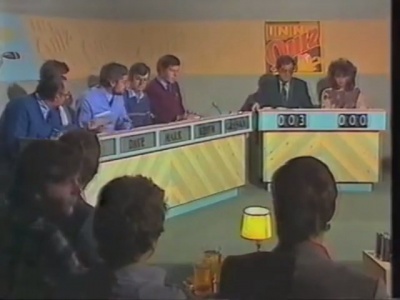 So this is what a 1980s pub looks like. A Game Show set.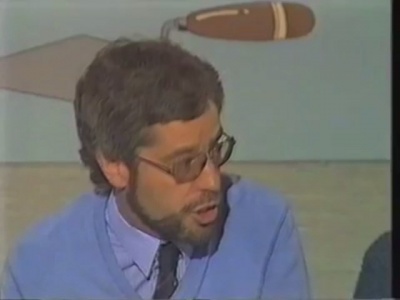 Yup! He looks like a pub landlord to me.
Keith Walmsley tells us:
This was a sports quiz between sides representing one pub from each county of the TVS area. Its format was modelled on that of the then-popular Sunday People national pub sports quiz. Inn Quiz was hosted by Dave Lanning, and won by a team representing The Plasterers Arms in Reading. Definitely five-a-side, and definitely tankards for the winners, but I can't say I remember the fleece jackets, or an FA Cup-style trophy!
For what it's worth, the members of the winning team were Mark Balchin, Graham Edge, Roy Bennett, Dave North, and yours truly. I have a videotape somewhere which, if it still works, has recordings of all the shows.
Trivia
Lest anyone should be concerned that Keith's off-air VHS may be the only record of the show (and it did cross our minds), worry not, for we are reliably informed that the master tapes still exist and are in the safekeeping of the Wessex Film and Sound Archive.
Feedback