Jerry Springer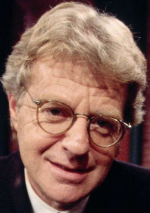 Biography
Former mayor of Cincinnati turned legendary talk show host. Probably the only game show host to have an opera written about him. He's hosted game shows occasionally on both sides of the pond, such as appearing on Dancing with the Stars and hosting series 2 of America's Got Talent.
He died on 27 April 2023, aged 79.
Trivia
Point of confusion - he's actually British. He was born in East Finchley tube station during the War (on exactly the same day as Stockard Channing). His parents emigrated to the States when he was 5.
He once gave away a £160,000 prize on Greed, which remains the biggest ever payout from a Channel 5 show.
Web links
See also
Obituary from Weaver's Week.
Feedback