Jewish Mum of the Year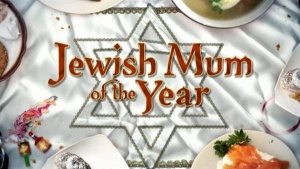 Host
Voiceover: Jeni Barnett
Co-hosts
Judges: Tracy-Ann Oberman and Prof. Dovid Katz
Broadcast
Shine for Channel 4, 9 to 30 October 2012 (4 episodes in 1 series)
Synopsis
The Jewish News sponsors a contest to find its new agony aunt. For reasons not entirely clear, the editor thought the best way to do this was to set various tasks, apparently typical of the female readership's regular activities, and determine the best performer.
If you can help us to expand this entry, please provide as much information as possible, using the feedback form below.
Champion
Sandi Firth
Theme music
Dru Masters is credited as "Composer"
Trivia
There was no credit for an Inventor, though the programme implied it was the idea of Richard Ferrer and his newspaper colleagues.
A spin-off programme, Jews at Ten, was broadcast on More4 immediately after each episode. This allowed various Jewish celebrities to discuss the religious aspects in greater detail, and give an oral explanation of how faith affected their lives. Some footage from Jewish Mum of the Year was used in Jews at Ten, and the main programme included soundbites from these celebrity contributions.
Web links
The show publicised the hashtag #jewishmums.
The Jewish News editor Richard Ferrer defended the programme from trenchant criticism.
See also
Feedback