Jimmy Edwards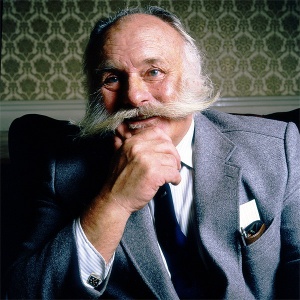 Biography
Mustachioed comedian and alumnus of the starmaking comedy factory that is Cambridge Footlights, James Edwards came to prominence in the 1950s radio comedy Take it From Here and became a TV star as the headmaster in school-based sitcom Whack-O! - both series being the work of writers Denis Norden and Frank Muir.
He was a popular contributor to countless panel games, not least the long-running Does the Team Think? which he also devised, though he turned down the chairmanship of Just a Minute because recordings would clash with his regular Sunday polo game!
Trivia
He reprised his Take it From Here character of Ron Glum for Bruce Forsyth's Big Night - the sketches, which were based on the original 1950s radio scripts, were considered one of the more successful elements of the show and spun off into their own series The Glums.
He grew his trademark moustache to cover scars from reconstructive surgery after his plane was shot down while dropping supplies ahead of the Battle of Arnhem.
Web links
Feedback