Joel Ross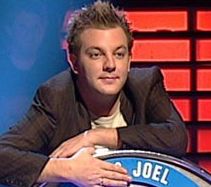 Biography
Born in Scarborough in 1977, Joel Hogg began playing records on the local radio station at the age of 16. After changing his name, work as a travel reporter took him to almost every radio station in the north east, finishing at Viking in Hull. There, he struck up a rapport with breakfast host Jason King, which proved remarkably successful. The duo successfully moved their show to Key 103 in Manchester, where they won a Radio Academy Gold award for Best Breakfast Show.
The radio presenters moved to Radio 1 in early 2004, where they were stuck in the oh-so-prestigious 4am slot. They were also given the weekly chart show. JK and Joel moved to Virgin Radio in 2007, and return to breakfast on Radio Aire (Leeds) in 2009.
The duo's ubiquity on lightweight entertainment shows resembled that of Ant and Dec around 2007. We're not sure which is which, but we can tell them apart from Sam and Mark. Usually.
Trivia
He was born on the same day (31 May 1977) as Debbie King. And they were both born in Yorkshire, too: Joel in Scarborough and Debbie at the other end of the A64 in Leeds.
He's a big fan of professional wrestling.
Web links
Feedback