John Fashanu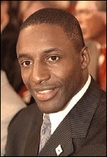 Biography
Born in Kensington on 18 September 1962, Fashanu was brought up in a Barnardo's home. He made his name as a footballer, playing for Norwich, Millwall, Wimbledon and Aston Villa; the highlight of his career was winning the FA Cup in 1988 with Wimbledon, and two England caps in 1989. He was implicated in a match-fixing scandal in the mid-1990s, but was acquited in 1997.
By this time, his easy style had led him into television, as the host of Gladiators. His cry of "Awoogah", shared with Craig Charles, became his small-screen trademark. Fashanu came second in 2003's I'm a Celebrity... Get Me Out of Here!, being voted to perform five Bush Tucker trials.
He has since spent eight months as chairman of Barry Town, worked for Eurosport as a pundit for their African football coverage, and hosted the Nigerian version of Deal or No Deal.
Web links
Feedback