Kenneth Williams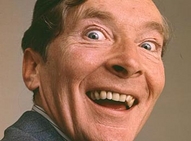 Biography
Star of Round the Horne, Beyond Our Ken, Hancock's Half Hour, Jackanory and the Carry On films. He also brilliantly narrated and voiced the early-1980's BBC children's cartoon series, "Willo The Wisp". The eponymous lead character, by the way, was unmistakeably modelled on Williams himself. The series was a huge hit with both children and adults, since it was screened in the BBC's prestigious 5.35pm slot, just before the early-evening news, so that both parties could enjoy it.
Trivia
He didn't invite people to his home because he didn't like other people using his toilet - well, he did suffer badly from piles.
He stood in for Terry Wogan on "Wogan" for one week in 1987.
He was the subject of an excellent and highly-acclaimed 2006 BBC drama, 'Fantabulosa', in which he was portrayed by Michael Sheen.
During "Jackanory's" original run, Williams was second only to Bernard Cribbins for the greatest number of appearances on the programme - although he was, by all accounts, initially reluctant to appear on the programme for fear that he would be forced to wear a "Jackanory" hat. Many consider his superb reading of the story "The Dribblesome Teapots", by Norman Hunter, in 1978 to be the best piece of storytelling ever on the programme, but it could be argued that he more than matched that achievement with his reading of Roald Dahl's "James And The Giant Peach" in 1986 - the voices that he put on for the characters in that story were just brilliant.
He died in early 1988 and his unique talents and wit and wisdom have been sadly missed ever since.
Books / Tapes
Just Williams: An Autobiography
Web links
Feedback